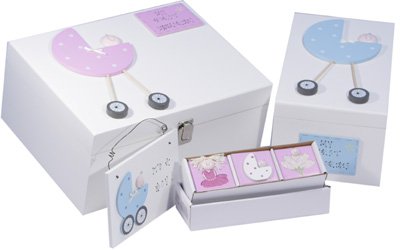 I'm a very sentimental person, and I've kept all sorts of bits and pieces from my daughter's gestation, birth and early months, including her first outfit and a lock of hair from her first hair cut. I imagine her first tooth will go into her memory box, along with other bits and pieces – like the first picture she ever 'painted'.
Now I'm due my second baby, I've been on the lookout for a memory box for him or her too and my most recent discovery is the Baby Keepsake Boxes from Freya Designs.
These boxes are really beautifully made. The workmanship on them is faultless and I can't complain about anything. The paint is finished off nicely, the inside of the box is smooth, and the toppers are gorgeously made.
The box I received has a large pram on the top, and a plaque on the side with the text 'My First Memories' painted on it. Inside is a similar plaque with the text Name, Date and Size, with space for you to write those on with a suitable pen.
The boxes come in two sizes and this is the smaller of the two boxes at 27x17x14cm. It's quite nice and deep, so while it's roughly shoebox sized, it will contain quite a few odds and ends.
The box also arrives safely packaged in bubble wrap and inside another box, so there's no damage in the mail.
The only negative for me is that the range is limited, and you only have the choice of pink and blue in the baby range, so if you want to steer away from gender-related colours, or if you don't know the sex of your baby, you have no alternatives. Also, the designs are very stereotypical with all but the photo-box having designs of babies in cribs or prams.
The box itself is a stunning new baby gift for a mum-to-be, or to keep for your own baby's memories, but I do think they could expand at least the colours a  little.