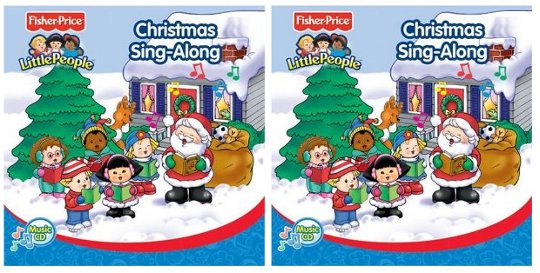 I'm a great mum when it comes to baking cakes, play dates,
and rolling around in the grass and leaves. I'm a terrible mum when it involves noisy toys and irritating music. I just don't have the temperament for it, so the majority of children's music CDs simply make my toes curl and eventually find their way on to Freecycle or back to the library.
But when something makes it's way into the car… well, then you know you're onto a winner.  The Fisher Price Little People Christmas Sing-Along Music CD has been in the car for two weeks now, and it's still going well. There's one song on it – All I want for Christmas is My Two Front Teeth – that annoys, because it gets stuck in my head, but for the rest, we actually have a lovely time bopping along to the songs, and my daughter is slowly but surely getting to know the tunes and even some of the words, here and there.
There are 20 songs on the CD, adding up to 55:49 playing time, which is ideal as most of our journeys are only ten or fifteen minutes, so we don't hear the same songs over and over each day, definitely adding to the longevity of the CD.
While children singing can sometimes be off-key and annoying cute, overall the quality of singers and production on the Little People Christmas Sing-Along is really good, and I particularly like that there are many Christmas classics to be had – both secular and Christian. So you'll find both O Come All Ye Faithful and It's Beginning To Look Like Christmas on the same CD, and I think that's fab as it provides a lovely balance.
The CD comes with the lyrics too, which is useful.
Every time we listen to the Little People Christmas Sing-Along CD, I feel like throwing a kids Christmas party. The feeling passes quickly, but it certainly gets me in the right mood.