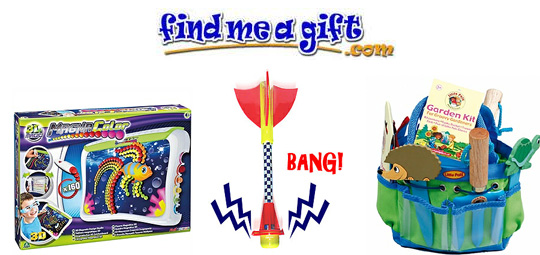 I do love mooching around the Find Me A Gift website - it's like going to a GIANT Hamleys (and Hamley's is giant enough already!) without having to do battle with the rest of everybody mooching around Hamleys.
A box of various things from Find Me A Gift arrived on my desk a few weeks ago and my youngest son has been merrily playing with them all ever since - he has a favourite and it won't take a rocket scientist to figure out which one it is!
The things that arrived in the box were:
3D Magic Magna Colour set - £24.99
Children's Gardening Tools kit - £15.99 and
Big Bang Rocket - £9.99
3D Magna Colour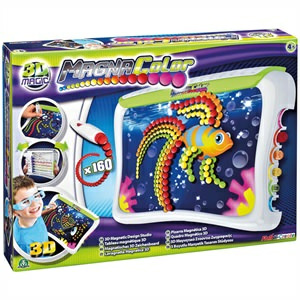 Edward's very arty so the 3D Magna Colour was the first thing he grabbed out of the box.  I have to say, his excitement and enthusiasm for it soon ran out because, OH MY GOODNESS, what a faff and fiddle it was to start with!
Edward is six, it was his birthday yesterday, and when he wants to get started on a project, he doesn't want to wait to set it up.
The 3D Magna Colour isn't something you can set up without reading the instructions first and the instructions were clearly written by someone who hadn't completed the 'simple and concise instruction writing' course - both me and Edward's dad had to read through them several times and then just hoped we'd understood them correctly!
It works like this: you fill up the different coloured pens with its corresponding magnetic dots, then trace them over one of the stencils to create the picture; your picture will become 3D when you put the glasses on and when you're done you simply push all the magnetic dots back 'into' the 3D Magna Colour board, shake it and all the dots are sorted back into the correct pen (that you slotted back into the back of board).
There's a YouTube video showing this too http://www.youtube.com/watch?v=PMIJ_K0rap4
What it doesn't show you is the hassle factor associated with it and magnetic dots going missing and to be blunt - none of us were impressed with this at all.
It looks like it should be a HIT, but for £24.99 and all of the fiddling about and the end results it's much more of a miss.
For an overall score we all agreed we were being generous with a 5 out of 10; it's too expensive and too fiddly.
Children's Gardening Tools Kit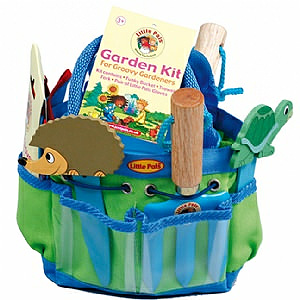 Ever since Edward's been able to mess around in the garden, he has.  Both me and his dad enjoy gardening (his dad has even won a silver medal at the Chelsea Flower show!) so he was very keen to get down and dirty with the Children's Gardening Tools kit.
It comes in blue and pink - ours was blue, otherwise I'm not sure Edward have been so pleased with it - and contains:
A metal bucket
A metal trowel with wooden handle
A metal fork, again, with a wooden handle
A gardening 'utility' bag to keep them all in
Two wooden markers and
A pair of cotton gardening gloves
It's very nice to look at and Edward thought the two wooden markers were cute - one was a hedgehog and the other a tortoise.
He was a little disappointed that there weren't any seeds included in the set for him to plant, he thought that would have been nice and I'm inclined to agree with him.
Although the set is very well made and lovely quality, a couple of packets of seeds wouldn't bust the profit margin bank and would make it a really good all round gardening set to get youngsters engaged with their green fingers.
As it is, he's planted a dark purple petunia and some pale blue aubretia in the bucket (his dad would have drilled holes in the bottom for drainage) and is thrilled with it.
This is a lovely little gardening set, I'm just not sure I'd pay £15.99 for it and not feel I'd been robbed just a little bit.  However, this will come down purely to the fact I know I could pick up some cheapo tools and little metal bucket for much less and use some wooden lolly sticks as markers.
Yes, I know it wouldn't look as cute and 'polished' but it would be cheaper; still, don't let my tight-fistedness get in the way of what is a lovely gardening set that is very good quality and would make a lovely gift.
Edward's overall score is an 9 out of 10 (with one mark deducted due to lack of seeds) and mine is a more conservative 7 out of 10 (due to my cost issues).
Big Bang Rocket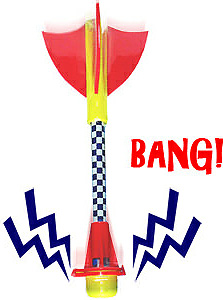 The Big Bang Rocket was the biggest hit out of the three Find Me A Gift Items and at £9.99 it's also the cheapest.
It's nice and simple, works every time and as it has a noisy BANG element to it, kids (of all ages) are going to LOVE IT!
I have no clue how it works, but all you have to do is flip the 'landing stopper' up and sandwich a piece of newspaper between it and the rocket shaft. Then you swing it up into the air by the strap that's attached the handle and let gravity do the rest.
It's obviously weighted at the stopper end because it always ends nose side down on the ground and makes a resounding BANG when it does!
Newspaper recycling has never been such fun and the Big Bang Rocket will work on any hard surface too.
As I said at the beginning, it wasn't going to take a rocket scientist to figure out that the Big Bang Rocket was going to be Edward's most favourite of the three items that arrived from Find Me A Gift - I have to confess it was everyone's favourite.
We all played with it (it works in the rain too) and were all in agreement that the Big Bang Rocket deserves a 10 out of 10.
And finally...
So a bit of a mixed bag from Find Me A Gift this time.
I'd steer well clear of the 3D Magna Colour, would go for the Children's Gardening Tools Kit (if you don't mind spending more on gardening things that look nice as well as being fit for purpose) and I'd definitely recommend the Big Bang Rocket - it's just too much fun and well worth a tenner.
Delivery is free if you spend over £40, otherwise it's £1.95 for orders weighing less than 1kg and rising to £3.95 thereafter; most things are covered by a 30-day money back guarantee.