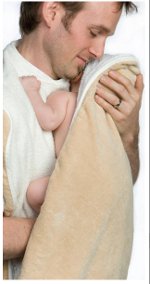 About the Cuddledry towel, Tammy says, "I've always wanted to know what all the Cuddledry fuss was about." An avid watcher of Dragon's Den, she heard about Cuddledry ages ago and was keen to try it.
"The first thing that struck me about the Cuddledry towel was the feel: it's incredibly soft. I mean, I want one for myself, it's so soft!"
The towel is divided into two sections – a caramel coloured soft outer layer and the almost equally soft towelling inner layer in white.
"At the parent end of the towel is a circular strip of fabric that can be attached to the main body using press studs. These can be adjusted for big and small necks, which I thought was a very nice touch. At the baby end of the towel is the head hood, also made from the towelling material," Tammy explains.
"The principle is cleverly simple. Attach the towel so you have both hands free to manage baby out of the bath and into warm dryness. For a new parent that is SO important. I remember being terrified of dropping my daughter and once I actually did - she slipped under the water. My heart stopped. So I was keen to try something that wasn't going to repeat that performance. I gave it to a mum with a newborn to try out over the weekend and we both enjoyed the experience a lot. In fact, the towel has stayed with her."
What makes the Cuddledry so soft is that it is made from bamboo and unbleached cotton, both of which are very absorbent fibres. Initial fears aside the towel really does soak up the damp so baby isn't cold and it doesn't get completely soggy either so baby gets wrapped in the equivalent of a damp tissue.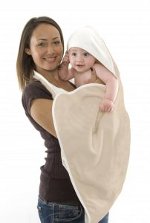 "I like the different designs available. I am not sure of the price. I know that it is made from amazing natural fabrics and these cost money, and I know it is so very soft (even after two washes), and I know the design is worth paying for but nearly £30 for a towel is HARD to bear." Still, as a gift and as something for a new mum, or as that one little parenting treat, Tammy felt this was a good place to start.
"I have to say that a less fraught bath time is always welcome and from what I witnessed over the weekend, I have to say that the conceptual idea really works."