I was rather looking forward to putting the Crazy Soap products through their paces as I have the 'acid test' for them - my youngest son, let me give you a bit of background.
When he was very little we used to love splashing around in the utility room sink; the bathroom in our 16th century cottage was cold, the utility room was super warm.  His dad had disc issues with his back too so standing at worktop sink height was much easier for him than leaning over a bath.
Time marched on and Edward, of course, got bigger and soon out grew the utility room sink, little did we know it had become his beloved utility room sink.
The transition to the full-sized bath in the bathroom did not go well.  The mere mention of bath time was enough to signal the start of battle so getting upstairs into the bathroom often required the deployment of either bribery or parental wrestling skills.
As for hair washing!  Well that was utter torture for everyone involved - Edward would scream, stand up, try and climb out of the bath, stick his head over the side making it impossible to put water on his head without covering the floor.
I'm glad to say the situation is now much improved - we tried everything to try and make, what should be a nice quiet, wind down time, less stressful - but Edward can, if he chooses, be a little reluctant when it comes to playing in the bath or getting his hair wet (funny, he doesn't mind messing around at the swimming pool, head completely underwater and then standing in the shower after!).
Crazy Soap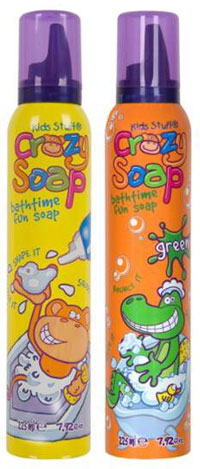 SO, I nonchalantly put the two cans of Crazy Soap Foam, the tube of Crazy Soap Body Paint and the tub of Crazy Soap Bath Goo on the breakfast bench in the kitchen.
It took less than two minutes for my eagle-eyed son to spot them and ask whether they were for him and what they were for.
News that Crazy Soap were things for the bath was not met with great excitement I must confess, but he did say that because of the pictures on the front it all looked quite fun.
You could see the internal battle playing out already -
Have a bath and get to play with the fun looking Crazy Soap
NOT have a bath and miss out playing with the fun looking Crazy Soap
A few hours later and, clearly after much thought, Edward came to me with his 'plan'.
Edward - "You know that Crazy Soap..."
Me - "Yes I do."
Edward - "I think we should put the crazy foam ones by the sink in the kitchen, so I can use them to wash my hands; that's a good idea isn't it Mum."
At five-and-a-half he's the master of the rhetorical question and I couldn't fault his reasoning, so the two cans of Crazy Soap Foam - one white and one green - and put them by the kitchen sink.
Now would you believe that within 30 seconds Edward needed to wash his hands?! I mean, really, what were the chances of that...? Kids - they can be so transparent!
The Crazy Soap Foam retails for £2.00  for 250ml and is STRANGE stuff! We had lots of fun with it - it's like really dense shaving foam that almost has a rubbery feel to it and, as it says, you really can shape it and bounce it; we made ducks, snowmen and lots of snowballs.
Edward really liked the Crazy Soap Foam, he says, and I quote, "it is really fun to play with, it bounces lots and the white one is my favourite; it smells quite nice too."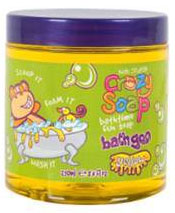 So that just left the Crazy Soap Body Paint and Bath Goo...
Edward - "Mum..."
Me - "Y-e-s..."
Edward - "y'know...I'm really dirty still after swimming...I think I should have a bath!"
Well who was I to argue!
A scoop of Crazy Soap Bath Goo (£2.99 for 250ml) was sploshed under running water and turned it an interesting yellow colour; another scoop was duly sploshed under running water because it was so much fun and the water became quite a vivid yellow colour - it would seem that bright yellow water is COOL!
The Crazy Soap Body Paint (£2.49 for 150ml) was unleashed next - ours was blue - and this combined with the Crazy Soap Bath Goo turned the water and amazing shade of green; this was even more cool than yellow water.  There are some additional instructions for the body paint - you must NOT get it on the tile grouting or on your clothes, if you do you'll never get it off.
The Crazy Soap Foam was also revisited and I've been instructed to tell you that it's just as much fun to play with in the bath as it is by the kitchen sink.
And finally...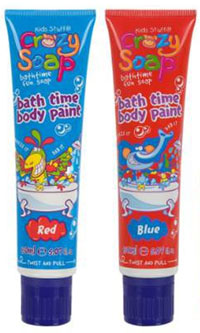 Edward thoroughly enjoyed playing with all the Crazy Soap items we'd been sent.  They are easy to use, smell nice and fresh - nothing overly strong or overtly girly/boyish - and wash off the skin easily too, Edward wasn't left looking pale blue after playing with the Crazy Soap Body Paint.
The Crazy Soap Bath Goo and Crazy Soap Foam were probably his favourites and mine too I think - Goo is always fun and the foam is just so strange you have to keep playing with it.
I think the price point is absolutely spot on - all the Crazy Soap products were a decent size and if you don't let little fingers get too carried away with the goo then they'll last for quite a long while.
The only problem I came across was how to get Edward OUT of the bath - which is almost unheard of - and as a result I've awarded Crazy Soap our 'Worth Every Penny' award; hurrah!
Crazy Soap products are available to buy from Tesco and Morrisons and you can LIKE them, and be kept up to date, on Facebook too.
www.facebook.com/crazy.soap.kids