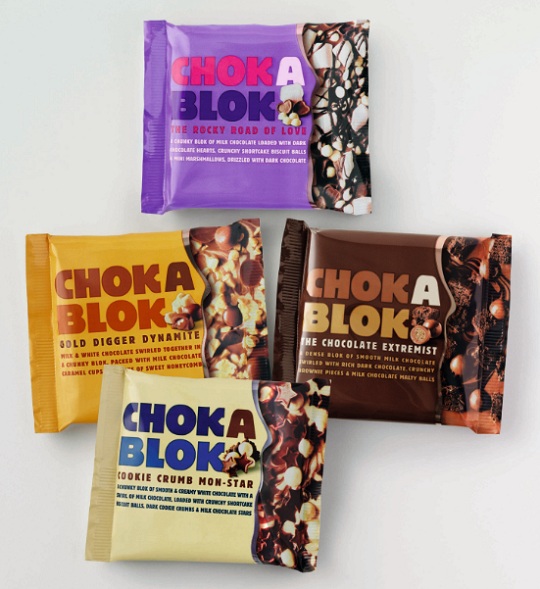 Chocolate. Oh yes this week I got to review a new range of chocolate bars. Does the world really need a new range of chocolate bars? Well personally I don't think there can EVER be enough chocolate in the world. Ever.
ChokaBlok promise that their indulgent and luxurious range of goodies are mouth watering experiences you'll simply love. Well that's a pretty big claim to make! Did they live up to the promise though?
There are four flavours, plus a gift box containing bite sized versions of all the flavours. We got all four of the flavours to try, and the gift box. Here's how they fared in our very tough PlayPennies testing regime (being eaten by me).
The RRP for all the blocks is £1.59, and for the gift box it is £3.99. The range is available now from Tesco stores.
Gold Digger Dynamite
The Gold Digger Dynamite bar is chok-full (ahhh so that's where they get the product name from) of milk chocolate caramel cups, and chunks of sweet honeycombe surrounded by milk and white chocolate, swirled together in a chunky blok.
That's the product description. If you're used to Cadbury style bars where everything is smoothly integrated into the chocolate bar, then this is nothing like that. The extra bits like the honeycomb are toppings on the bar of chocolate. This was quite strange for me to start with, but not an issue. I did find I tended to eat the bar like you do with cake though.
It is a good sized bar but not as thick as I was expecting. This, and the way the bars have toppings, is the same for all the bars reviewed here. With the Gold Digger Dynamite bar, the caramel cups and chunks of honeycomb are embedded/sprinkled over the top of the chocolate rather than throughout as you might expect from other chocolate bars.
The honeycomb isn't like the meltingly crunchy stuff you might get in a Cadbury chocolate bar for example. It's harder - splinters of the stuff coated across the top of the bar. I couldn't distinguish the caramel cups at all while eating. The incredibly sweet chocolate overpowers all other flavours. Also, the chocolate feels slightly waxy when you bite into it, which I hate (and is one of the many reasons why I loathe Hershey bars) but that won't be a problem for everyone.
Pros: good size, unusual presentation, great if you like really sweet chocolate
Cons: waxy feel to the chocolate, disappointed not to be able to taste the flavour of the caramel cups
Overall verdict: 5/10
The Rocky Road of Love
The Rocky Road of Love is milk chocolate whereas the Gold Digger Dynamite is milk and white chocolate. However, there wasn't a huge difference in flavour between the two, which was odd. Again, this chocolate bar was also super sweet.
According to the product description, the bar is a mix of milk chocolate loaded with dark chocolate hearts, crunchy shortcake biscuit balls and mini marshmalls finished with a drizzle of dark chocolate.
As far as presentation goes, this bar looked quite good. Especially the chunks of marshmallow giving it a bit of colour and a contrast of texture. I was really looking forward to eating this bar and for the most part I wasn't disappointed. Unlike the Gold Digger Dynamite, the chocolate wasn't as waxy. It melted nicely in the mouth and coated it like chocolate should.
It is very sweet, but I realise that this is a feature of the range. If you like your chocolate that way, then you'll love this.
However, I was hugely disappointed by the marshmallow. On my bar these were chewy and a little hard. It felt like I was eating pellets of soft rubber.
Pros: good size, attractive presentation, yummy chocolate
Cons: marshmallow is too hard and chewy
Overall verdict: 8/10
The Chocolate Extremist
The Chocolate Extremist, according to the product description, is not for the faint hearted. It is crammed with smooth milk chocolate, swirled with rich dark chocolate, and covered in crunchy brownie pieces and milk chocolate malty balls.
In this bar, the super sweetness of the chocolate contrasted with the slighlty bitter after taste of the rich dark chocolate in the most wondeful kind of way. I thought the malt balls (Malteasers by another name!) were an inspired choice. Their light texture, and tendancy to explode in your mouth, went really well with the chocolate that melted to just the right consistancy and coated the inside of my mouth the way chocolate should. Top marks to Choca Blok for this. Apart from the brownie pieces, which frankly added nothing except a gritty texture.
Pros: a divine combination of flavour and texture
Cons: ditch the brownie pieces
Overall verdict: 9/10
Cookie Crumb Mon-Star
According to the product description for the Cookie Crumb Mon-Star, this bar is a combination of smooth and creamy white chocolate with a swirl of milk chocolate, loaded with crunchy shortcake biscuit balls, and finished off with dark cookie crumbs and milk chocolate stars.
I'm afraid to say that this bar did not work for me on any level. I found the chocolate both waxy and too sweet. It was also either flavourless, or so sweet I couldn't distinguish any flavour. I suspect the latter.
None of the textures worked for me at all. I particularly didn't like the cookie crumbs, these just felt a bit gritty, and even though I knew it wasn't my mind kept interpreting it as dirt.
I'm a fan of white chocolate normally, but I'd have to give this bar a miss I'm afraid.
Pros: the milk chocolate stars are nice
Cons: too sweet, with a waxy texture
Overall verdict: 4/10
ChokaBlok Gift Box
I saved this one till last, and was glad I did. So nice for the review to go out on a high note! The ChokaBlok Gift Box has bite-sized mini-bloks created from a combination of the ChokaBlok bars. Each blok is hand topped iwth sweet treats and has a soft centre.
And these combinations are simply delicious. I really enjoyed all of them. Here the Cookie Crumb Mon-Star is simply divine. It is white truffle packed with mini chocolate chips, milke chocolate stars and cookie crumbs. Delicious.
But not as gorgeously yummy as the Gold Digger Dynamite cups. If you like caramel, and I do oh yes I really do, then you'll adore these. I could have eaten an entire box of them on their own. The centre is a gooey caramel sauce in milke chocolate studded with crunchy chunks of honeycombe and rizzled with white chocolate. There's nothing too sweet about any of it. I could taste the caramel seperate from the milk chocolate, and together they combined in just the right way. I loved the saltiness of the caramel combined with the honeycomb too.
The only complaint I have about the gift box is that you only get the one, with the mix of flavours. I'd be happy if they extended the range so as well as the combination you got boxes of cups of each flavour too. Probably better for my waistline that they don't do this!
Pros: absolutely delicious combination of textures and flavour
Cons: need more gift boxes!
Overall verdict: 9/10