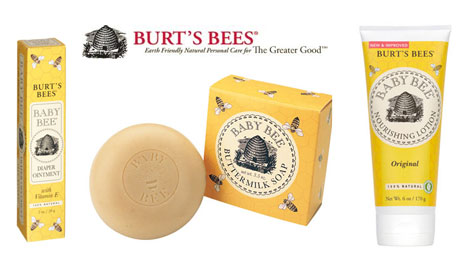 I can't help it, every time I read 'Burt's Bees', or hear it, I think of Burt from 'Burt and Ernie' on Sesame Street dressed up like a bee keeper.
THAT Burt doesn't have anything to do with Burt's Bees, but the lovely folks at Lucy Rose do and they sent us a few Burt's Bees bits and pieces to give to one of our parent testers to try out.
Lucy Rose is a company dedicated to sourcing and providing organic skin care and natural cosmetics.
It was set up in 2006 by Sarah, a beauty therapist and aromatherapist, who had become increasingly worried about all the harmful chemicals in the products she was using.
Sarah set off to find healthier and more natural products for her and family to use which were not only effective and environmentally friendly, but affordable as well.
Named after her two daughters, Lucy Rose has just been announced WINNER of the 'Best Retail Website' in the 2011 Beauty Awards' run by Natural Health Magazine.
We have an Lucy Rose PlayPennies exclusive coming for you tomorrow, so make sure you keep a look out for that - you might want to take advantage of it and buy some Burt's Bees products!
Burt's Bees
Burt's Bees products have been around for over 25 years; their natural skin and body care products are cruelty free and every review I've read about them wax lyrical about their effectiveness.
We sent three Burt's Bees items - Baby Bees diaper cream, Baby Bees Buttermilk soap and Baby Bees Buttermilk lotion - to PlayPennies mum, Tamara to throughly test out on our behalf.
Baby Bee diaper ointment
Tamara told us that although Baby Bees diaper ointment is the name listed on the site for this product, it actually says 'nappy ointment' on the bottle - after that she gushed for a good five minutes about how amazing it was.
"The  Baby Bees nappy ointment is both dry and powdery as well as being very moist; it really is the most unusual sensation and, actually, really pleasant!" she said.
" I love the texture, it's very soft and scrummy and smells FANTASTIC," Tamara continued, apparently the Baby Bees nappy ointment smells like you're outside in the sunshine.
According to Tamara, when compared to Sudocreme (one of the most popular nappy rash creams of general choice) Baby Bees nappy ointment isn't as gooey and sticky.
Her youngest daughter wears reusable nappies and gets a lot of  bare bottom time to keep rashes to a minimum.
"Rashes are, fortunately, quite rare but when they hit, they hit," Tamara explained, "My daughter had a rash a few days ago and so I liberally applied the cream. It didn't vanish after one application and  took a while to get rid of the rash, but I don't think that's the cream I think that was just the level of rash."
The Burt's Bees nappy ointment costs £5.99 for 55g and whilst that's more expensive than Sudocreme and Bepanthan (which aren't cheap) Tamara says a tiny TINY bit goes a really long way.
"It will last you for AGES," she concluded, "If you applied it every day I would guess at it lasting easily a month and you know you're not attacking your child's skin with anything harsh or chemically based."
"It was a real treat to use and combined with it's all its naturalness and fantastic smell it's just brilliant."
Tamara gave the Burt's Bees nappy ointment an 8 out of 10.
Baby Bee Buttermilk soap
You know how parents are supposed to be giving and self-sacrificing...?
Not Tamara, when it comes to the Burt's Bees Baby Bee Buttermilk soap!
"I stole this from my child! It is delicious! It's soft and creamy and lathers up a dream!"
"If you ever imagined being Cleopatra in asses milk or whatever, then this is the soap for you. I love the idea that I am being bathed in buttermilk - bring on the slaves and the pearl dissolving in vinegar I say!"
I can't say I've ever dreamed of being Cleopatra but I do rather fancy trying this soap now; Tamara also told us it didn't dry her skin out at all, didn't make your eyes sting and was effortlessly creamy.
The Burt's Bees Baby Bee Buttermilk soap is hypo-allergenic which makes it perfect for young baby skin as well as those who are a bit more sensitive than others.
It's vegetable based and has so many scrummy ingredients in it, it almost reads as if it's good enough to eat.
However, you'll pay the price for that as it costs £4.99 and Tamara told us it doesn't last very long - although I wonder if she made up excuses to keep using it due to it being so lovely!
"This is an indulgence," Tamara concluded, "a natural and luxurious indulgence for baby and you, and perfect for parents who want to know the ingredients in their baby products too."
Despite the £4.99 price tag, Tamara still gave the soap 9 out of 10 - she said it was THAT good, her skin didn't even need moisturising afterwards.
Baby Bee Buttermilk lotion
I did warn you that Tamara gushed about the Burt's Bees products, the Baby Bee Buttermilk lotion was no exception.
"One tentative squeeze of the tube and WHAM I got a dollop the size of a small baby in my hand!" Tamara reported, "I used this on the baby and the 5-year-old and one squeeze covered them both amply, and left some for me. It really does go a loooooong way."
She went on to tell us that the Baby Bee Buttermilk lotion was 'very moisturisy' without being gooey and without being too stubborn about 'absorbifying'.
It includes natural ingredients like Beeswax, Sunflower Seed Oil and Shea Butter - all things that are guaranteed to keep your baby's skin super soft and healthy without the aid of nasty chemicals - it's also pediatrician tested and hypo-allergenic.
"I would say it is a great cream for kids as it's absorbed quickly, keeps the skin soft and doesn't have an overpowering aroma so is gender neutral," Tamara continued. "It lasts forever; just don't squeeze too hard or you'll end up lotioning yourself, your partner and possibly your neighbours too!"
Tamara also gave the Baby Bee Buttermilk lotion (£8.99) 9 out of 10.
And finally...
I think we can safely say that Tamara was reasonably impressed with her Burt's Bees product experience and her comments are typical of all comments I've previously read.
They may cost more than their high street counterparts BUT they last a long time (apart from the soap, although I still suspect excessive use in a short space of time!) and you can rest easy in the knowledge that all the ingredients are natural and kind to your skin.
We say that's definitely worth paying a little extra for.
Don't forget to keep a look out for our Lucy Rose PlayPennies exclusive discount that we have for you tomorrow too!
Burt's Bees Baby Bee products at Lucy Rose