Buffalo MiniStation Lite Review

My laptop is forever running on almost full, and before I can download any new software, I have to remove something old. The obvious answer is to buy new memory, but I always seem to negotiate myself right out of the purchase with promises of 'going through it all' – which needless to say, I've never had the time to do. Does this sound familiar? Well, it turns out there is a cheaper, easier, less technical solution to these problems: The Buffalo MiniStation Lite.
We gave the Buffalo MiniStation Lite external USB hard drive to techy-lover PlayPennies mum, Sandra, to put through it's paces, and here's what she had to say: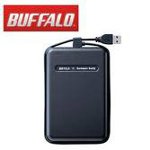 "I'm always up for trying new tech' - I have to confess to being a bit of a gadget girl, so I was quite excited to try the Buffalo MiniStation Lite.
My excitement was shortlived though - it's just an external hard drive...it's USB 2 and even with it's turbocharged-make-data-transfer-twice-as-fast-as-USB-2 it's still USB 2. There is a USB 3 version but that's more expensive."
Fair enough, really. It's an external hard drive. Pretty much what it says on the tin. But Sandra continues, "Maybe I'm just being 'unfair' to the Buffalo MiniStation Lite because I've been using external drives for years to backing up my photographic archives. For documents and everything else that I might need to access anywhere away from home I use an online backup service, which means I don't have to remember to take an external drive with me - yes, I have to pay for it but for the capacity it's tiny money and expandable at any time when I need more space."
Realising that we still didn't know too much about the Buffalo MiniStation Lite, Sandra tried to put herself in the shoes of someone who didn't know much about external hard drives, online backup and so on, and at worst, someone who isn't really all that tech-savvy. This gave her a somewhat more positive outlook on the hard drive.
"The Buffalo MiniStation Lite is slim and smooth and sleek looking, it has rounded corners and a little light comes on in the corner when it's connected to your PC," she told us. "It connects via USB and is nice and easy plug and play. If you're new to technology then the lack of instruction manual of ANY sort might not be very comforting, but if you dig around enough through the files that are pre-installed on the Buffalo then you'll find a user manual of sorts."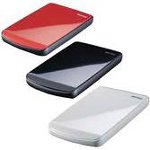 Plug and play means there's nothing to install, and you should be able to access the pre-installed files Sandra mentioned simply by plugging in, and waiting for a folder to pop up asking if you want to explore the contents of your drive. From there on out, you should be well on your way to space-making heaven.
"And that's really all there is to it - you plug it in, you send files to it and it stores them for you," Sandra told us with a slight shrug.
The MiniStation Lite comes with Securelockmobile ™ which encrypts your personal data, meaning no one can access it without authorisation. It is also USB powered, so there's no need for additional power cables or plug sockets.
In response to how one could use the Buffal MiniStation Lite, Sandra commented: "Let me see...erm....if you have lots and lots of music files that you want to put on to a new computer then you could use the Buffalo as the go-between.
If you wanted to show your Aunty Mable all your holiday snaps from the last ten years, then you could put them all on your
Buffalo take it along to her house, plug it in to her computer (she's got a computer as she's a bit of a 'Silver Surfer' is your Aunty Mable) and look at them on the Buffalo, no need for emailing and downloading hundreds of photos.
If you're one of the good people who likes to back up your data then you could use the Buffalo for this too." All good ideas from Sandra. Her final thoughts?
"It's nice and simple, it's cheap(ish) and does the job."
And Finally....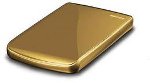 The MiniStation Lite comes in sizes ranging from 250GB – 640GB. Prices also range from RRP £59.99 - £89.00 (depending on size and colour).
The downside is if you buy a 250GB hard drive and run out of space then it's tough, you can't expand its storage capacity and will have to buy a second or larger hard drive.
The MiniStation Lite allows you to store, back up and transport digital images, music and other files without taking up space on your PC's hard drive. The Buffalo MiniStation Lite now comes in black, red, white, blue, pink and gold , to match any personal style.