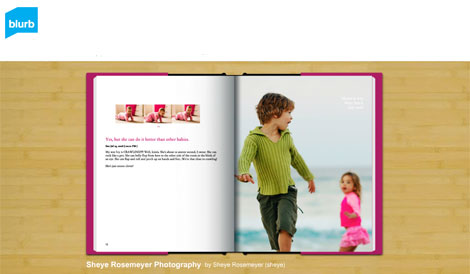 Blurb has to be one of my favourite words in the English language and after hearing what PlayPennies mum, Lorna, had to say about Blurb.com, I rather think they could become my favourite book creator 'people' too.
There is so much you can do with Blurb; there's so much scope and potential that I almost don't know where to start.
Basically, you can create ANY sort of book you like for any purpose that you need it for.
Blurb.com IS NOT a book creator site that has stories pre-written, where all you need to do is give a couple of names and upload a photograph or two.
Blurb.com is also much MORE than just a photo book creator; you can create portfolio books, wedding books and childhood picture books.
You can create business books, take your on-line blog and turn it into a blog book (I really like the idea of this, my youngest's dad keeps a blog about all of his childhood antics - it would make for a fabulous series of books to give him one day) or, if you've ever written stories for your children (I have) then you can turn those into Blurb books too.
Recipe books! The only limitations to the sort of books you can make is your imagination.
We tasked Lorna with creating a Blurb book; here's how she got on...
"I've just become a Blurbarian!" exclaims Lorna, "That's what the site calls you when you register."
Lorna tells us that you have to install the BookSmart software on your computer so you can work on your book even if you're not online - a good idea.
You can create books in both landscape and portrait and in a variety of sizes, including notebooks.
"I started by selecting Standard Landscape; next you can choose to 'wing it' or let the program guide you," she explains, "I sought guidance!"
Probably another good idea, unless you already know what you're doing with this sort of book creator and know exactly how you want your book to look.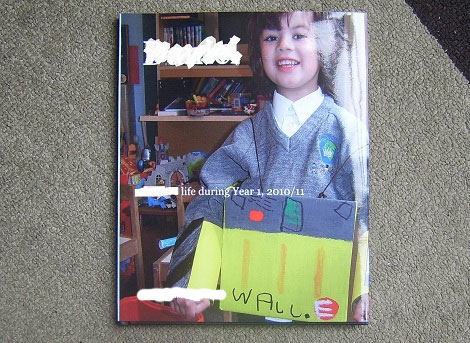 *The cover on Lorna's book obviously doesn't have the family names obliterated 'in the real'; we did that, for obvious reasons
"BookSmart starter layouts include Wedding, Photobook, Yearbook, Cookbook and there's an option for 'Blog to Book' too which I thought was very intriguing," continues Lorna, "If I had a blog I'd have tried it out, but I don't so I chose 'Text and Photos' instead."
Lorna was then asked to upload photos from her computer, Flickr, Photobucket, Picasa and/or Smugmug and then gave her the choice to let her decide which photos should go where or let BookSmart place the photos for her - they will be placed oldest to newest if you let the software arrange them for you.
"I liked this as I was making a chronological diary of my son's year, so this was a nice easy option," says Lorna.
There are lots of other choices still to make such as photo frames and theme's; these things can be changed later if you find something else that works better.
"I chose 'Vivid' and then made a HUGE mistake," confesses Lorna.
"I skipped the tutorial for what turned out to be quite a powerful program with a lot of options; I had to go back and do the tutorial in order to understand all my options."
Lorna tells us that you preview your book from this point onward so you can see how things are looking.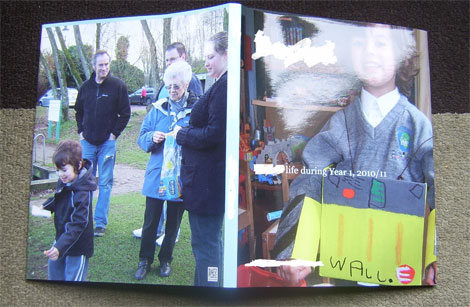 Apparently, you should allow plenty of time to create your Blurb book.
"Be prepared to spend a good amount of time doing this!" Lorna advises.
"I created the book with my son, we went through the photos and I helped him write in the text.  The book is something I decided I wanted to do - so he'll always have photos of his school project and certificates and the things that were important to him when he was six years old."
In all, it took them a week of working on the book each evening, and Lorna says that was only with a little bit of text.  The book itself takes between seven and 10 days to print, and then there is delivery time on top of that.
So, the book was all designed and the order submitted; there was nothing to do but wait for it to be delivered.
"The book is JUST gorgeous!" Lorna gushes.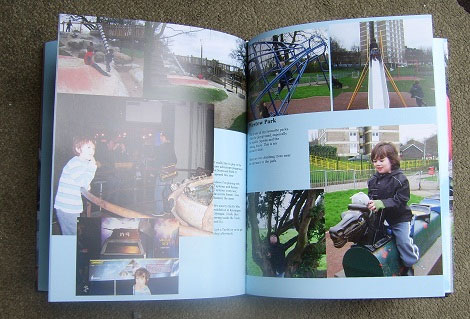 "The dust cover features the photos we chose and I'm really pleased I did put some text on the inside flap, as it looks fabulous there," she says.  "Underneath the dust jacket the hard cover is blank. For some reason I was expecting the book title on there, although thinking back, there was nothing to say that it would be."
Lorna opted to have her Blurb book printed on premium paper, she tells us that it's quite thick and feels lovely and stiff.
"The pages and photos really did appear just as they did on the screen," she concludes. "There weren't any surprises and the packaging the book comes in is great - it has a plastic sleeve and a really thick cardboard coat."
And finally...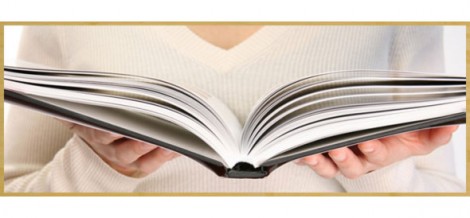 If you enjoy creating things and giving unique and personalised gifts then I think you should really consider making a Blurb book.
Lorna tells us they look fantastic and she was clearly over the moon with hers.
How much your Blurb book costs will depend on the size you choose, the sort of paper it's printed on and how many pages you have, but to give you some idea...
Square  books start from £7.95
Standard portrait and landscape from £12.95
Large landscape from £31.95
Large square from £33.95
A soft cover, standard portrait book with 20 pages printed on standard paper will cost you £12.95 (if you're NOT in the UK then you'll need to add VAT on top of that).
You are in control of your book budget so it can be as 'cheap' or expensive as you design it to be.
I'm really going to have to give this a go - my only problem is going to be NOT turning everything into a Blurb book!