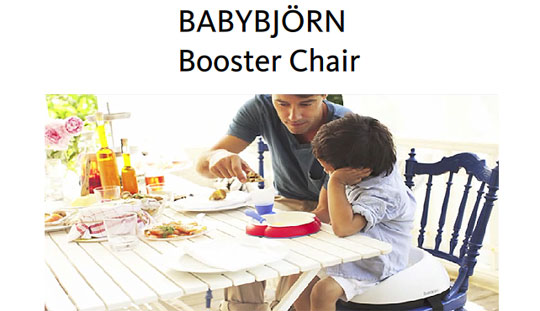 If you've had children, are expecting a child or know someone who's had children then it's unlikely you won't have heard the name BabyBjorn.
The name has been around for as long as I can remember and today I learned the fantastic story behind the brand and how it came into being - just indulge me for a second whilst I tell you about it, before the BabyBjorn Booster Chair, because I think it'll make you smile...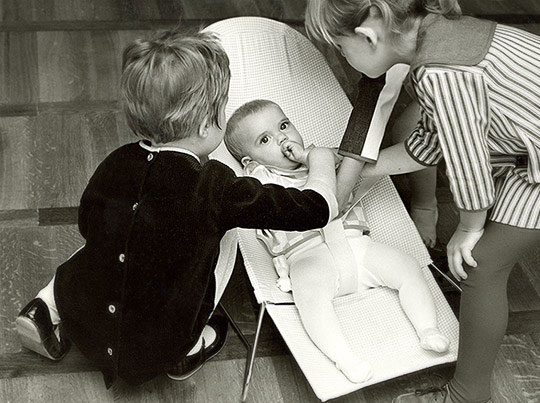 BabyBjorn was founded way back in the 60s by Björn Jakobson after he'd visited the US and came across a simple wire-framed baby bouncer (I, apparently, spent many a happy hour in one when I was born) and took one back to Sweden for his baby nephew.
Björn and his sister-in-law set up their own company, BabyBjorn, and started to manufacture their own baby bouncers.  He tried to persuade the buyer of one of the biggest department stores to stock it but she refused to even discuss the possibility with him.
Refusing to give up Björn arranged to have himself photographed with his baby bouncer and placed an advert in one of the large newspaper, saying how fabulous the baby chairs were and could be bought at this particular department store.
Björn then telephoned the buyer, told her the 'BabySitter' (as it was called) was being advertised in the paper for sale in her department store; having little choice in the matter, now, the buyer reluctantly agreed to stock two.
Next, Björn sent his mother in to the department store to buy one of the BabyBjorn baby bouncer chairs and back again, a week later, to buy the other one. Within just a few months the BabyBjorn bouncer chairs had taken off in a big way and the department store buyer became the one chasing Björn for orders; BRILLIANT!
Fifty years on, BabyBjorn are still going strong in the baby product market place and the BabyBjorn Booster Chair is just one of the new products in their, now, rather more expanded range.
Even though my eldest son, at nearly 18, can still throw tantrums any self-respecting three-year-old would be proud of, he's a little big for testing the BabyBjorn Booster Chair so we sent it off to Emma and her young daughter to review. Here's how they got on...
BabyBjorn Booster Chair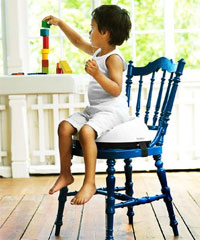 Designed to be used for children aged three years and upwards, the BabyBjorn Booster Chair was created to allow your no-longer-a-baby-wanting-to-sit-in-a-high-chair child to feel grown up and sit to the table, with everyone else, whilst still being safe and comfortable.
It has a very sleek, simple, rounded design and is made from moulded plastic, making it very easy to clean as there are no nooks, crannies or corners for bits and pieces to get stuck in.
The concept is very simple: you take an ordinary chair, secure the BabyBjorn Booster Chair to it and VIOLA! You have a chair that's now a better height for your youngster and will allow them to sit comfortably at the table.
Now, please take note, when I say 'ordinary' chair, I mean a square chair with four legs and a back - the BabyBjorn Booster Chair hasn't been designed to work with round dining chairs or bar stools.
Emma reports that the BabyBjorn Booster Chair fits very securely to the correct chair.
"The strap and the rubber dots on the bottom of it mean it's attached really well to the chair, and no chance of it sliding off, taking your child with it."
She was also happy to note that the the locking system for the strap is child-proof and explains, "You have to push and rotate a knob to release the straps, making it pretty much impossible for a young child to release the booster seat from a chair."
Emma's daughter loves to draw and she found the BabyBjorn Booster Chair was particularly useful for facilitating this whilst she worked.
"We've used the Baby Bjorn booster seat at our dining table quite a few times but iIt's particularly good when I am working on my laptop, and my daughter wants to be beside me doing something," she says.
"I lay out paper and crayons on the table, and she's able to 'draw draw draw' to her heart's delight, while sitting right beside me. She's at the perfect height for the table."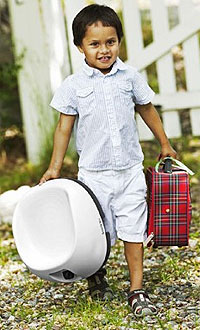 The BabyBjorn has also been designed to take out and about with you to restaurants - anything that means avoiding the, sometimes less than sanitary, restaurant high chairs can only be a good thing.  However, Emma isn't so convinced about the practicality of this.
"The Baby Bjorn booster seat is surprisingly heavy, heavier than it looks. While it's portable in that you can lift it up and chuck it in the boot of the car, I don't think I would be doing that because of its weight," she reveals.
So while it only weighs 1.2kg and BabyBjorn say that the booster chair is 'ideal for restaurant visits and when you are travelling', Emma's not at all sure she agrees and feels the BabyBjorn Booster Chair is, perhaps, a bit big and bulky to carry into a restaurant with you.
And finally...
The BabyBjorn Booster Chair retails for £59.99 - although it's currently on sale at Amazon for £53.99 - and Emma is of the opinion that this is a bit pricey for a booster seat.
However, she does go on to say she believes it will last through mutltiple toddler lifetimes, due to the fact it's so robust and well made, and, as a result, will most likely have a very good resale value when you no longer require its services.
Pros, Cons and Overall Score
Pros - very high build quality, secures incredibly well to the correct chair, safe, nice and easy to keep clean
Cons - perhaps a bit expensive, not as portable as it could be
Overall Score - 7 out of 10
If you'd like to know more about the story behind the concept and design of the BabyBjorn Booster Chair, there's almost everything you could ever wish to know about it over at the BabyBjorn website at the end of THIS LINK.