Not only am I the PlayPennies go-to girl for anything naan bread, after last week, but I'm also the in-house beauty girl - give me anything make up and I'm a happy girl.  The latest make up which landed on my desk for me to test comes from Asda and is branded under the George label.
Three things were sent to me to use and review:
George 3D Glitter nail polish
George 'Shimmer me!' shimmering brush-on powder
George Velvet Eye Pallete
Asda describe their George cosmetics range as being an 'award winning, fun, colourful, affordable, on trend makeup range to suit all age groups.'  They have over 200 different items that cover all cosmetics bases - mascara, eyeshadows, lipsticks, nail polishes etc - and go on to say, "These lines make designer brands more affordable with no scrimping on quality in the process."
I'm not sure how Asda make up makes designer brands more affordable, surely the designer prices aren't going to come down as a result!  I get where they're coming from but does their George make-up range really compare to the designer names?
Here's my verdict...
George 3D Glitter nail polish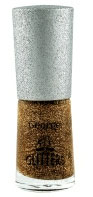 The George 3D Glitter nail polish retails for £2.75 and I must confess to being slightly horrified at the sight of it in the bottle.  I'm NOT a fan of wearing colour on my fingernails anyway, let alone ICE QUEEN GLITTER aka gold - that was the colour I received, YUK!
The lid being a glittery silver colour didn't really help its cause either and it was with a certain reluctance that I put it on my fingernails.  I don't often need to eat my words and whilst I wouldn't go as far to say I need to, in the case of the George 3D Glitter nail polish, I will say that didn't turn out to be anywhere near as ugly, quite frankly, as I thought it was going to be.
It is actually very subtle; you don't end up with fingernails caked in a thick layer of glitter, rather speckles of the sparkly stuff that still allows your natural nail tips to show through. It's dead easy to apply, easier than normal nail polish actually, because you're not applying a solid block of colour.
The base that carries the glitter doesn't dry shiny though, so if you like a glossy finish to your nails then you'll need to add a layer of top coat once the glitter coat is dry - which takes less than minute.
The longer I wore the George 3D Glitter Ice Queen nail polish, the more I warmed to it; I like that it hints at being there, rather than being very obvious and in your face.  It might be a bit glittery for every day wear, but if you were going out and wanted to add a little extra something, without going over the top, then the George 3D Glitter nail polish would help you achieve that.
Glittery nail polish can be a devil to take off, where only industrial strength nail polish remover will do, but the George 3D Glitter nail polish came off rather easily; hurrah!
Overall, I'd give it an unexpected score of 9 out of 10.
George Velvet Eye Pallete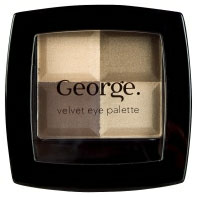 I have a bit of a thing for dark, smokey brown and grey eyeshadows, so the George Velvet Eye Pallete in 'Earthquake' was just perfect for me.
The small squares of four different colours were very smooth to apply and were matt - like my nail polish, I'm not into glittery eye make up either.  The foam applicator that fits into the compact was robust and did the job, although I always prefer to apply eyeshadow with a brush - it just gives a softer, smoother finish.
I was very happy with the George Velvet Eye Pallete - the colours didn't crease and they didn't drop tiny particles onto my cheek bones during application either (I really hate it when that happens!).
There are various different shades available and all of them retail for £4.50.  My mum bought a Clarins four-colour eyeshadow eye pallete that she didn't get on with, so gave it to me.
It was lovely to wear and I can honestly say that the George Velvet Eye Pallete colours felt exactly the same - £4.50 rather than too close to £20?  I'll go for the George one, I'm not an eyeshadow snob!
Oh, I can also tell you that all the eyeshadow colours came off very easily too, both with cosmetics wipes and eye make up remover on cotton wool.
I give the George Velvet Eye Pallete a resounding 10 out of 10.
George 'Shimmer me!' shimmering brush-on powder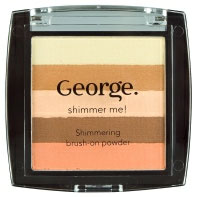 Think five thin strips of different coloured pressed powder blusher and that's what you have here; I was sent colour number 7 'Starstruck'
You simply sweep your blusher brush across all the colours and then apply the colour to your cheek bones; you can use the colours separately as eyeshadow colours and the lightest creamy shade as a highlighter.
It doesn't come with a brush or applicator of any sort, the case has a very nice solid feel to it and also retails for £4.50.
I have a rather expensive Bobby Brown version of this George 'Shimmer me!' shimmering brush-on powder (that I LOVE), in very similar colours, so I was able to compare the Asda 'makes designer brands more affordable' claim against my seven times more expensive designer alternative (I kid you not, check HERE).
Well, the first thing I noticed was the smell - it's odd.  It's not overly unpleasant, and I can't put my finger on what the smell is, but it's enough to be obvious; I didn't like the smell (the Bobby Brown one doesn't smell).
The colours blended easily and evenly on my big blusher brush and were nice and subtle on my skin - I like subtle, but if you want/need more intense colour then just apply a few more coats and you'll have very definite bronzed cheeks.
Despite the name 'Starstruck' hinting, perhaps, at a glittery finish, the final effect is matt which makes it utterly perfect for daytime; my Bobby Brown Shimmer Brick is very glittery - yes, I know I said I wasn't a fan of glittery make up, but a slight sparkle on the cheeks for an evening out is allowed.
The colour stayed put for a long time and overall I was very pleased with the George 'Shimmer me!' shimmering brush-on powder.  The only negative thing about it is that strange smell - you can't smell it when it's on your face, but it hits you as soon as you open the compact, and for that reason I'm going to give it a 9 out of 10.
And finally...
If you're looking for make up that will last, is nice to wear, doesn't wear off, smudge or 'drop' within a couple of hours and is easy to remove, then definitely give the Asda George make up range a go - even the 3D Glitters Ice Queen nail polish!
You cannot fault the price and the value and you'll also be pleased to know that all the George cosmetics are produced in the UK and are NOT tested on animals; hurrah for Asda make up!