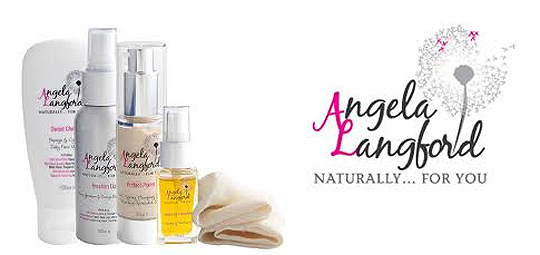 What is it you look for in your skincare products?  We all have our different preferences when it comes to smell and texture - I like body butters really thick and almost waxy, for example - but I think there are some basics that we all want from things we're going to put on our skin:
We want them to deliver on what they promise - please don't promise the Earth if you can't give it!
We want them to be free of  petrochemicals
We want them to be free of parabens; and
We most certainly don't want them or their component ingredients to have been tested on animals!
Angela Langford believes the same; she has developed a range of skincare built upon these 'wants' and then taken it a little bit further.  Angela sent me a few of her products to try; here's the tale of my Angela Langford skincare experience.
First...
I get a lot of things sent to me; some are just thrown into cardboard boxes, I've had a couple of things wrapped in a supermarket carrier bag taped up with brown parcel tape and then there are those things that come to you wrapped lovingly in tissue paper that's stuck down with a little sticker - it's the smallest of touches that make all the difference and turn the receiving of something into an 'experience'.
The Angela Langford 'Repair and Renew Face Oil' with Q10 and Vitamin E, in its square glass bottle, came wrapped in the fuchsia pink tissue paper sealed with an 'Angela Langford - Naturally...For You' sticker; the 'Travel Pack Essentials for normal skin' set came bundled together in a pretty fuchsia pink chiffon bag with ribbons to pull it closed.
This might seem superfluous and 'frilly' to some but, for me,  it adds an extra special touch that I always appreciate.  There was also a little folder that contained information sheets telling me what each product was for, its feature ingredients in plain English (alongside their latin counterparts), how it works and how exactly I should use it.
This is just one of the ways Angela has taken things a little bit further.  There are plenty of other ways she's gone that extra mile too, too many for me to list here but it's all there for you to read on the About page of her website.
Repair & Renew Q10 and Vitamin E Face Oil

I confess I was 'worried' about this Repair & Renew Q10 and Vitamin E Face Oil.  I've spent my entire mid-teenage to present adult life trying to banish the appearance of oily skin at any time.  I have normal combination skin so don't suffer from excessive shine all the time BUT, surely, putting oil on my face was going to make it shiny, greasy and break out in spots as a result!
The little product synopsis for the Repair & Renew Q10 and Vitamin E Face Oil says
This face oil contains mega doses of vitamins and anti-oxidants which nourish, repair, protect and moisturise your skin, keeping it looking radiant, fresh and youthful
Well I'm all for THAT so I duly put it on night and day.  You can add it to your normal moisturiser for daytime use and you can use it on its own at night time for a really intense repair whilst you sleep.
Did it make my face appear and feel shiny, greasy and break out into spots?  NO! I was amazed - how can you put oil on  your face and NOT end up looking oily?  I don't know, all I know is that you don't AND, oh my goodness, it smells fabulous on your skin.
This is another 'strange' thing about the Repair & Renew Q10 and Vitamin E Face Oil - if you smell it in the bottle it doesn't smell of much at all and what you can smell certainly won't make you say 'ooooh that's nice!'.
I was hanging out my washing one day and I kept getting a waft of the most amazing smell; it wasn't my washing and I couldn't work out where it was coming from.  I'd just had a shower and washed my hair - it wasn't any of those fragrances either - then it dawned on me that it was the Repair & Renew Q10 and Vitamin E Face Oil on my face!
I can't explain the smell to you other than it was FRESH and sealed the position of Angela Langford's Repair & Renew Q10 and Vitamin E Face Oil on my list of 'must have' things to put on your face.
My skin DOES look brighter, fresh and more radiant; it doesn't look greasy - in fact, it almost looks dewy when you put it on alone and don't cover it with anything else - it will last for ages and I. LOVE. IT.
Even the £22.50 price tag isn't enough to put me off - it'll be a regular feature on either my birthday or Christmas pressie lists, is something I'd really recommend you save up for and try (it's great for your hands too!).
Travel Pack Essentials for Normal Skin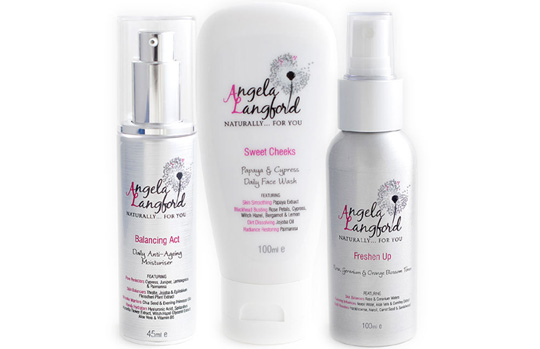 I travel often so it's nice to have things you need in small bottles and pots that don't take up a ton of room in your case, and conform to the 'no more than 100ml per bottle of liquids, creams and gels' rules for flying.
'Sweet Cheeks' Papaya and Cypress Daily Face Wash, 'Freshen Up' Rose, Geranium and Orange Blossom Toner and 'Balancing Act' Balancing Anti-Aging Moisturiser are the three products, bundled in the pretty fuchsia pink chiffon bag, make up the Travel Pack Essentials for Normal Skin set.
Sweet Cheeks is a...
Gentle daily non foaming face wash that's gentle enough to be used every day and leaves your skin feeling fresh, clean and looking fresh and rosy
Does it?  Yes it does BUT (and I know this is personal and subjective) I really didn't get on well with the smell.  The best way I can describe it to you is to say: lemon sherberts, the Sweet Cheeks face wash smells of lemon sherberts which is great if you like the smell of lemon sherberts - I don't.  But it delivers on everything it promises, so you (I) can either wake and smell the sherbert or choose to use something else.
The Freshen Up toner has an interesting smell to it that must come from the Rose and Geranium waters it contains.  It sprays on, it can be used between the Sweet Cheeks face wash and the Balancing Act moisturiser OR as and when during the day when your face feels in need of a bit of refreshement.
I haven't been a cleanser, toner, moisturiser girl for many years, so that sequence is a bit of a faff for me but I LOVE spritzing the Freshen Up toner on my face during the day; with 50ml in a bottle, I know it'll be my most trusted flying companion from now on!
The Balancing Act anti-aging moisturiser is really light but, wow, it's effective - I like my face to feel moisturised, not as though I've rubbed some watery 'nothingness' into my face BUT, at the same time, I don't want it to be waxy in the same way I want body butter to be (talk about picky!).
The Balancing Act moisturiser ticks all those boxes for me and whilst it, too, smells lemony it's more like a light lemon souffle and even I can cope with that.
You can buy each of these three products individually for £8.75, £6.50 and £12.50 respectively (these are the prices for the travel sizes, they can be bought in larger sizes too) but if you buy them bundled together they total £22, saving yourself 20% of the individual rrp.
And finally...
I've rambled on for far too long already so I'll keep this brief - if you want skincare products that are about as natural as you're going to get, don't contain all the horrible things, are made from lots of good things, DO lots of good things for you skin AND aren't tested on animals, then Angela Langford Skin Care is certainly going to be for you.
I really enjoyed using them - especially the Face Oil and Freshen Up toner - and can't really find any cons other than the lemon sherbertness of the Sweet Cheeks face wash and the price of some things possibly being prohibitive for some.
They certainly aren't at the bargain basement end of the price ladder, but you get what you pay for and that's quality and comfort in the knowledge that you aren't putting any junk on, and into, your skin.
Do you remember I said that Angela had gone that 'extra mile'?  Well if you want to try out some of her products for FREE before you commit to buying larger sizes, you can!
You simply pay the £4.50 delivery costs and Angela will select a sample range of her products for you, based on your own skin type and condition - now you can't say fairer than THAT!
Overall marks out of 10 for Angela Langford Skin Care - 9 out of 10.