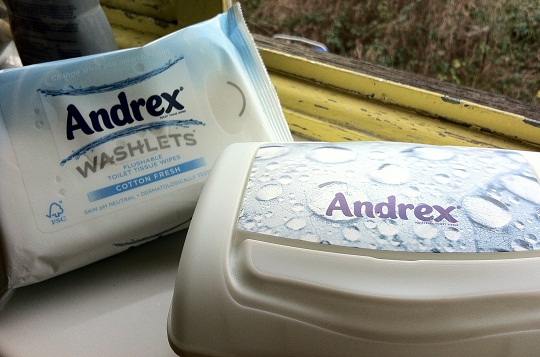 How do you introduce a review of toilet paper? After sitting here for half an hour trying to think of something suitable, I have come to the conclusion that really there is simply no delicate way of putting it.
This post is all about bog / loo / lav paper. Whatever you want to call it. Except it isn't really paper, but wet wipes for grown up bottoms. Andrex Washlets to be precise.
And why exactly would anyone in their right mind want to either write or read about wipes for grown ups behinds? Well here's the thing. You become a parent, you find yourself weed on, pooed on, and vomited on. Nothing ever feels clean, and even when you get a fresh top out of the laundry basket there are stains on it.
It feels so nice, so incredibly GROWN UP and NORMAL to be able to use wet toilet tissue to make yourself feel really clean, really fresh, and ready to take on anything.
Want to find out more? Then read the rest of the review.
Andrex Washlets
Andrex Washlets are pre-moistened, flushable toilet tissue wipes. You get 42 wipes in a pack. The cheapest I found these were at Asda*, where the tub costs £1.94, and the refill pack costs £1.87.
One of the main causes of toilet and drains blockages are wipes that have been flushed. I have to admit I have been guilty of flushing baby wipes down the loo before, especially during the early months when I'd get caught short on actual toilet paper and no chance to pop down the shop! So I was quite interested to see how these wipes might go in use.
After six weeks we haven't had a single blocked loo incident. I have noticed that occasionally, the washlet hasn't gone down the pan on the first flush. Overall hey seem to be flushable enough.
The tub is a rather nice, pearly white. It is a bit smaller than other moist toilet paper tubs I've used, which is handy actually. It fits on top of our free standing toilet paper dispenser perfectly.
It has a double lid that can be easily operated one handed. You pop the top for the washlets, then lift the whole top off to put a new refill in.
Andrex recommends using the moist washlets as a little extra step to your existing routine. The company suggests that you use one or two wipes alongside your regular dry toilet paper to feel extra clean and fresh. Andrex Washlets are dermatologically tested and pH neutral. That's important I think if you're a bit sensitive, and also because you don't want to pile on too many chemicals in this area, especially scents. Particularly for the ladies, as it can lead to other problems.
The washlets have a slight lemoney fragrance, which is nice and refreshing but not over powering.
I try not to use them every time I go to the loo. It isn't necessary, and a bit of a waste really. I love the way they make me feel really clean though, and they're just perfect for a quick refresh when you're rushed off your feet.
Overall, for loo roll this is a luxury not a necessity. It is a fairly inexpensive way to help you regain that 'like a human being' feeling again. Is it very wrong of me to feel a bit tempted to hide them so I only I can use the washlets?
Pros: flushable, light scent, clean well, good sized tub
Cons: at the end of the day, it is loo paper really, and there will be grocery shops where I just can't justify the spend.
Overall: 8/10