FREE Food Courses At Bella Italia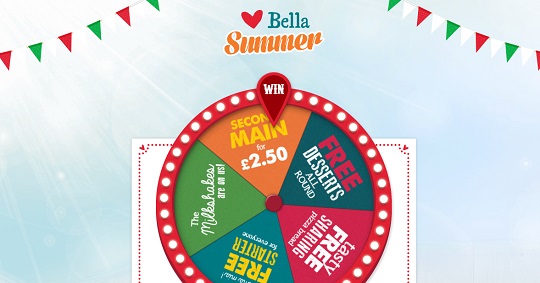 If you're thinking of family lunch out tomorrow, head over to Bella Italia first, and spin the wheel for one of five prizes: Second Main for £2.50, Free Milkshakes, Free Desserts, Free Starters, or Free Sharing Bread. I just won a free round of desserts for after our meal (purchase required), and forwarded the link to my sister who won free starters (can't be used together.)
This offer is available at Bella Italia until 1 September, and excludes Fridays, Saturdays and Bank Holidays.
Spin the wheel, enter your information, and print the voucher. Show your personalised code when asking for the bill to have your items taken off the price of your meal. Our free desserts will be free with the purchase of any adult main course. Your code will be checked against a live database and incorrect or previously used codes will not be accepted. Your code can only be used once and has no cash value.
This offer is not valid at Bella Italia Centre Parcs.
Maximum of one offer code per table, valid for up to 6 guests.
There are a few other T&C's but they're pretty clear on your voucher, so it's worth it!
See you at Bella Italia!