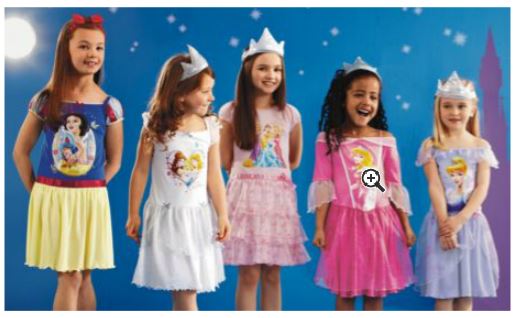 Last month we had regular updates on the night dresses Argos were selling at £2.99 and they were chopping and changing all the time, but the one that never seemed to come up at £2.99 was the Snow White Night Dress. Well, guess what? It just has. I've ordered one of my daughter's one, but unfortunately they don't seem to have stock of the 3-4 year old size. They may where you are, but they don't anywhere within a couple hour's drive for me! (Not that I would drive for a couple hours for it anyway, but that's how far I checked!)
This link will take you to size 4-5. Change the size to go to the one you want. 
These are lovely looking nightdresses and I could see my daughter using it for fancy dress as much as sleep!
Available in sizes 3 - 7 years - although currently 4 - 7 far as I can tell - these nightdresses are polyester, so may be a bit hot and sweaty - you'll need to monitor that, I guess. They also come with a ribbon head band, just like Snow Whites.
Hopefully your little princess will get a good night's sleep and be as handy in helping out with the housework as Snow White is in the stories!