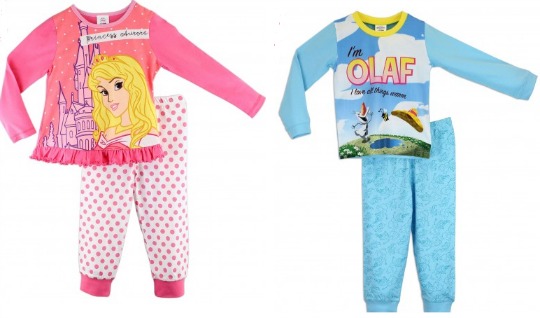 I like to get the kids new pyjamas for Christmas Eve. The thing is with the cost of Christmas it can be an unnecessary expense, I mean they have a drawer full already, BUT as parents we all like to make Christmas as special as possible, so us lovely PlayPennies ladies thought we'd find you some affordable nightwear for that special night before Christmas. The first place I think of when I think of good quality, cheap nightwear is Character.com. What's even better is shop the Secret Santa section and get 50% off when you enter promo code SANTA at the checkout.
The choice is fantastic, and remember the price you see on that set of pyjamas or onesie is not the price you will pay if you use the promo code SANTA. You will get them for HALF of the price shown!
Here's my favourite bargains, although I really could list each item: These Disney Princess Sleeping Beauty Pyjamas* for just £3.47 a pair! Disney Frozen Olaf*ones are only £4.47! This Adventure Time Onesie*is just £4.97 and I am over the moon at that, if any of your children like Adventure Time then it's not easy to find affordable merchandise!
Remember that it's only the nightwear in the Secret Santa section that is half price when you use the code SANTA at the checkout.