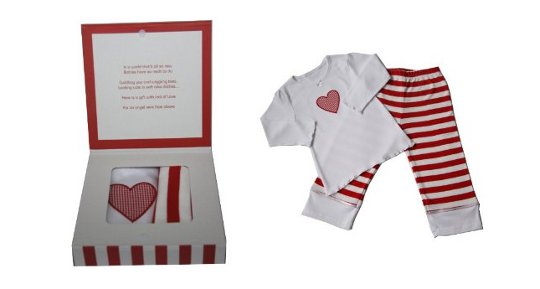 We received an absolutely gorgeous pyjama gift set from Minene recently. Whereas normally pyjamas themselves wouldn't really be what I consider a gift, I must admit that the presentation of the set, along with the actual outfit itself feels like a luxurious present.
Minene focus on fantastic quality items for babies, children and mums and I think the word quality is pretty much spot on.
Unwrapping the gift, the pajamas were in a square, stripy red and white box with a window – a lovely presentation that is perfectly suitable just on it's own. Opening the box revealed two rolled up bits of material : a red and white striped pair of pajama bottoms and a white long sleeved pajama top with a red heart in the front centre.
The most memorable thing about these pajamas is how soft they are. I don't know how they get it that way, but wow. Soft, soft, soft. I wished I could wear it. Apparently it's made from 100% soft cotton, and while I don't know what the difference is between that and normal cotton, it is… you guessed it… soft.
I wasn't too excited though, as often a wash will remove any trace of the former softness. Another experience I've had with pajamas is that they stretch out of all proportions after  a wash – these don't do that. I could probably put them in the box and re-gift them after the wash, and no one would be any the wiser. But I'm not going to, because cuddling my little girl with that softness against both our skin is an added bonus.
At £16 (at Amazon – these are no longer on the Minene website) it's not budget clothing, but it definitely makes a fantastic baby shower, new baby, first Christmas or similar gift.