Mr Men Pyjamas 2-Pack £3.89 @ Argos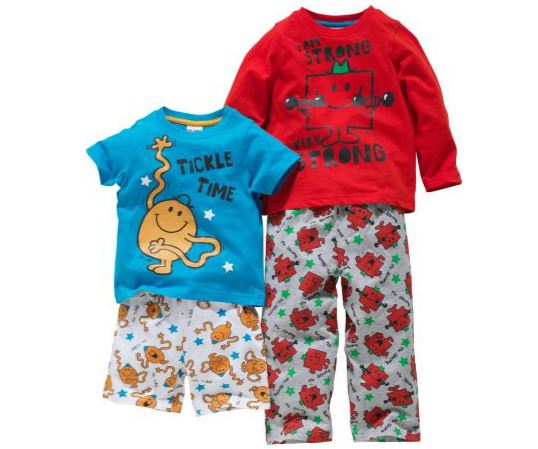 Argos are selling these fab Mr Men 2-pack pyjamas for just £3.89. I've just done a quick search and stock levels still seem to be good in most places, so well worth a look.
I guess these are 'boys' pyjamas, but I don't see why - my girls would look just as cute in them, and they'd be comfortable too. In act my 5 year old loves the Mr Men books, so I'm sure she'd love these. And at the price, I love them too!
This bright and colourful two pack of pyjamas features prints of Mr Strong and Mr Tickle; perfect for fans of the brand. It includes a long sleeved top and matching trousers and a short sleeve top with matching shorts, making the set perfect to be worn all year round.
What I particularly like about this set is that for the most part they are 100% cotton, although the grey bottoms are 10% visocse, 90% cotton.  At the time of publishing, these are available for ages 18-24 months, 2-3 years, 3-4 years, 4-5 years..
Thanks to skisop at HUKD