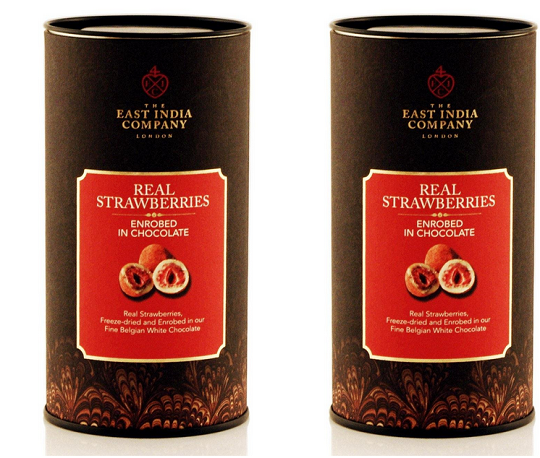 I was sent a tube of chocolates from the East India Company the other day. The tube was black with gorgeous designs and described the contents as "white chocolate enrobed strawberries". The strawberries have been freeze dried prior to their, ahem, enrobement, and I really wasn't sure if they were something I would like at all. I mean, freeze dried fruit with chocolate on it? Really?
Then there is the price tag. The East India Company popped on a charge of £7.95* for this tube of treats. That's really expensive. So what were they like? And can I honestly tell you that they are worth the price?
Well. No. I don't think they are worth nearly eight quid if I am honest. Not when you can get a gigantic box of chocolates from Thorntons for around the same price. However, they are divine. Utterly and completely divine. The chocolate is clearly a very high quality white chocolate and you can immediately taste this. Poor quality white chocolate has an almost oily texture, this does not.
My tongue died of happiness, as did those of my in-laws and husband. A group of sceptics were transformed by the rich flavour of the chocolate which is almost instantly counteracted by the tartness of the strawberries. They also have a very satisfying crunch to them. Your teeth slice through the chocolate to the strawberries and the blend of flavours is divine.
Some of the strawberries are wonderfully tart, making this a truly superb chocolate creation. The East India Company have made an utterly decadent treat here. I would definitely buy these as an Easter gift for someone special, investing all my money in one really good present. It gets 9/10 for taste but loses points on the price, dropping it to 7/10.