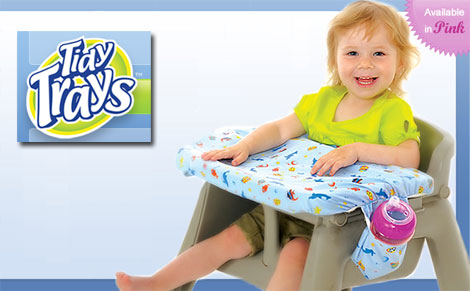 This is a quick Tidy Tray review, it's a sanitary high chair cover. I'd never heard of them before, but I think they're a pretty good idea.
Basically, it's a cover that you can pop over a high chair when you're out and about. If you're worried about cleanliness of high chairs other than your own, it's a nice counter-measure against icky bacteria! The Tidy Tray folds up into itself so you can easily pop it into your handbag or baby bag when you're on the go. The little pouch that you can see with the baby's bottle in it in the picture above is also the place where you can fold up the Tidy Tray.
I tried the Tidy Tray out at my local mothers and toddlers when we were having a snack break for the kids, as I don't have a high chair myself. It fitted easily over the high chair. I didn't use the bottle holder part, as my little one is drinking from a juice cup, and although it did fit in the pouch, it was kind of fiddly. The pouch is definitely more appropriate for a bottle.
I like the idea of the Tidy Tray as you can wash it yourself, and I know that it is clean enough for my little one to eat any food that is on it. I've seen some pretty disgusting high chairs in restaurants, so the Tidy Tray will be going in my baby bag any time I am planning on dining out.
At the minute, Tidy Trays are £14.99 with free postage, directly from their website. The Tidy Tray comes in blue or pink, if you want to be gender conscious when you're buying it.