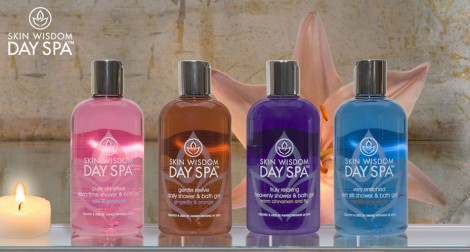 Offer me anything that has the word 'Spa' in it and I'm rendered powerless to resist so,  as you can imagine, I was like the proverbial child in the sweetshop when the ENTIRE Skin Wisdom Day Spa range arrived in a huge box.
The range has been created by three of the country's award winning Spas and it's sold exclusively through Tesco.
This is v e r y good for me, Tesco is my local supermarket of choice and as I've fallen in love with more than one or two of the Skin Wisdom Day Spa products I know I can easily replace them when I need to.
The Day Spa products come in four 'flavours'
Rose and Geranium
Gingerlilly and Orange
Warm Cinnamon and Fig
Vanilla and Neroli
And just to make the world an even better place, most of the Skin Wisdom Day Spa products are on offer at Tesco, with 1/3 off,  until 2 August (I'm afraid I can't tell you whether or not this offer is also running in-store).
If you're the sort of person that likes to really get to know the ins and outs of your products then there is a dedicated Skin Wisdom Day Spa website that tells you everything you ever wanted to know about the range, along with hints and tips from various people who work in the Spas which created these lovely products.
Now it's always lovely using pampering products at home - this was my assigned role, I fought the others for it! - but we wondered what it would be like to have them applied professionally in one of the Spas that use Skin Wisdom Day Spa on a daily basis.
So we persuaded Louise, one of our PlayPennies mums, to pay a visit to one of the London Cupcake Mum Spas for a bit of pampering; she didn't need asking twice.
Gentle Revive - Gingerlilly and Orange
Having taken everything out of the box, the three Gingerlilly and Orange products were the ones I smelled first.
I chose them purely because of the name and the lovely warm colour of the Gentle Revive Daily Shower and Bath Gel.
You know when you smell something and you instantly know that you like it because you have involuntarily muttered, "Ooooh...that's nice!"?
Well that's what happened when I smelled the Gingerlilly and Orange products.
I am completely in love with everything in this scent range
Exotic Hand and Body Lotion - 300ml - £2.66 (is usually £4.00)
Brightening Wash n Scrub - 300ml - £2.66 (again, usually £4.00)
Daily Shower and Bath Gel - 300ml - £2.66 (usually £4.00)
The brightening scrub is thick and creamy and definitely very 'scrubby' but not excessively so, so you don't need to worry about feeling you've just exfoliated with sandpaper.
The bath and shower gel is great for general use, especially as an alternative to shaving foam (which just leaves foamy scum in the bath or shower) and the hand cream, which lives by my kitchen sink, absorbs quickly, easily and isn't greasy either.
Gingerlilly is, apparently, often 'prescribed' to soothe and relax the mind and body, whilst Orange is thought to reduce tension and increase skin brightness.  It seemed fitting, then, that these were the products the therapist at Cupcake Mum chose to use for Louise's massage treatment.
Here's how she got on...

"On arrival at Cupcake Mum, I deposited my daughter in the on-site nursery and went upstairs to the beautifully decorated, calm and tranquil spa area," Louise tells us.
"The form I was given to complete had two of my favourite questions on it: "Do you want the therapist to chat", and "How intense a massage would you like?"
I don't go for a massage to be rubbed and chatted to, so I immediately feel better when I know the therapist is interested in how I want the next hour of my life to unfold – normally in peaceful blissful silence, with a touch of background music."
This is exactly what Louise got, other than when she was asking questions about the Skin Wisdom Day Care range.
Her treatment started with a Gingerlilly and Orange scrub and Louise didn't know, and neither did we until she reported back to us,  about scrubs  is that you're supposed to apply them to dry skin.
If you use them on wet skin it doesn't remove dry, or dead skin, but just dissolves.
"The Gingerlilly and Orange scrub definitely does what it says on the tin though," says Louise, "I felt a little raw and tingly after being scrubbed down, but also remarkably 'fresh' and clean, so it definitely did the trick."
Louise is also in the early stages of pregnancy.
"Because I'm in the early stages of pregnancy, I was concerned about the treatment, initially, but I was assured there were no aromatherapy oils and nothing that would be harmful to my baby," she explains. "Even the massage was tailored to this, with a gel cover over the bed to make the massage suitable for pregnancy."
Louise also loved the Gingerlilly and Orange scent and combined with a massage, says it was just perfect.
"I loved the smell too; it was only when my shoulders and arms were being exfoliated that I caught the aroma.
It was really a gentle and pleasant feeling, which as a pregnant woman is fantastic, since overwhelming smells aren't great and can make me rather queasy."
Louise told us that the massage she received at Cupcake Mum was great and that she felt remarkably relaxed, soothed and pampered afterwards.
She did say she would have liked the Gingerlilly and Orange hand and body lotion to have been a bit thicker though.
"Having said that, I cannot complain about the way my skin smelled, felt or looked after the treatment at all. It did feel hydrated and soft and smooth.
Thanks PlayPennies – I never knew an hour could leave you feeling like you'd been on holiday!"
The Others
It was a close call as to which was my next favourite between the Vanilla and Neroli products and the Warm Cinnamon and Fig.
The Vanilla and Neroli stole it.
Mainly because of the wonderful nourishing 'Wash n Scrub' and the FABULOUS ultra rich body butter - THIS would have had Louise ooohing and ahhhing over it's thickness, it really is utterly delicious for rubbing into your skin after you've had a shower.
Very Enriched - Vanilla and Neroli
Skin silk shower and bath gel - 300ml - £2.66 (I won't keep saying these should normally be £4, I'm sure you've got the gist by now)
Nourishing wash n scrub - 300ml - £2.66
Ultra rich body butter - 300ml - £3.33 (usually £5.00)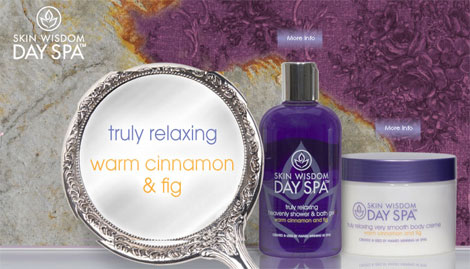 There are only two products in the Warm Cinnamon and Fig range and whilst I'm not sure if I can actually smell cinnamon (and I wouldn't have a clue what Fig smells like, other than ones you eat) I do rather like it.
It has a warm, comforting smell about it and the body cream is lighter than the Vanilla and Neroli body butter, so if you're not a fan of thick body butters then this is probably the one for you.
Truly Relaxing - Warm Cinnamon and Fig
Heavenly shower and bath gel - 300ml - £2.66
Very smooth body creme - 300ml - £3.33
The final products in the Skin Wisdom Day Spa range were Rose and Geranium scented.
I dislike anything that smells of roses other than proper roses in the garden, so I wasn't overly enamoured with them I must confess.
However, I have it on good authority from Cupcake Mum in London that the Rose and Geranium scent is one of the most popular among staff and clients.
Pure de-stress - Rose and Geranium
Skin restore body lotion - 300ml - £2.66
Sleep-time shower and bath gel - 300ml - £2.66
Unwind bath and body oil - 100ml -  £4.00 (usually £6.00)
The body lotion is much the same thickness as the Gingerlilly and Orange lotion and the bath and shower gel does leave your skin feeling wonderfully soft.
Then there's the Rose and Geranium bath and body oil...PLEEEEASE can this be available in the other scents too!
You can either add it to your bath or massage it into your skin after bathing or showering - did you know that if you apply oils to wet skin, you'll be locking in up to 10 more moisture?
All of the other Skin Wisdom Day Spa come in plastic packaging, but the body oil comes in a tall, slender opaque glass bottle that just looks wonderful.
It leaves your skin feeling awesome too and it doesn't feel how you'd expect either.  When I read oil I imagined it would be like rubbing in something akin to olive oil; it's not.
I'm not really sure how to describe it to you so you'll understand because the best I can do doesn't make much sense!
It's oily but it's not; it's light and it soaks into the skin leaving it almost dry with a very, subtle sheen that's not remotely oily or greasy looking.
This is one of those products you're going to have to try for yourself to get where I'm coming from, but it's wonderful; I'd pay good money for it if it was available in Gingerlilly and Orange or Vanilla and Neroli.
And finally...
So after an epic review, what can we conclude about the Skin Wisdom Day Spa products?
they offer excellent value for money
the scent ranges are fabulous with something for everyone
the scents aren't overpowering but don't disappear off your skin within 30 minutes
they work wonderfully both at home or in the capable hands of a Spa professional (remember, scrub on dry skin then wash it off in the shower!)
the Skin Wisdom Day Spa products are on offer at Tesco, until 2 August, with 1/3 off the retail price
www.cupcakemum.com (if you happen to be in, or close to, London I'd seriously think about paying them a visit).