Samigail's Handmade Personalised Gifts Review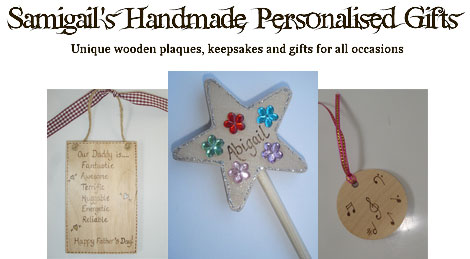 Samigail's is the sort of 'rags to riches' business story that I love.
Founded by 'accident' by a stay-at-home mum who's gone on to build a successful mail order company, it doesn't get much better.
Samigail's Handmade Personalised Gifts was founded by Fiona Morris and has had an online presence since February 2009, although she's been selling her beautiful personalised gifts since the end of 2007.
The gifts are made from wood that is decorated and has the personalisation burned onto them, using a process called pyrography.
We sent PlayPennies mum, Tamara, two personalised gifts from Samigail's to review; here's what she said...
"I received a stunning book bag tag and personalised wand from Samigail's," reports Tamara.
"Now you'd think that such things are silly fripperies that cost money for no reason, but I have to tell you that they are SO not!
The personalised wand is too beautiful with a stunning detail on both sides and the engraved quality looking almost burnt in the wood."
Tamara confessed that she loved the way the wand looked so much, she was actaully incredibly reluctant to hand it over to her almost five-year-old daughter, "I know she adores wands but this looked to pretty to give to a child!"
But being the doting mother, and dutiful reviewer, Tamara did give the wand to her daughter who, reportedly, ran of with it literally screaming with delight and joy.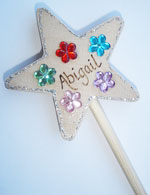 Since then Tamara has been turned in a frog countless times and is of the opinion that this personalised princess/fairy wand from Samigail's is simply genius, not to mention robust!
"My daughter has has stood on it, dropped it, kicked it, hidden in and sat on it and the entire thing remains solid, unbroken and with the decorations still solidly stuck on; I'm pleased to report the wand is in perfect working order."
I saw the Samigail's gifts before we sent them to Tamara and they really are lovely; simple but full of charm.
The personalised princess/fairy wand retails for £5.50 and would make a perfect, and special,  gift for any little girl on her birthday, or for an expectant mum who's about to have a little girl.
Ahhh the infamous book bag - we didn't have those when I was at school but now no self-respecting primary school child is seen without one.
The trouble is they all look the same, so all hail the Samigail's personalised book bag tag (£2.00).
Tamara also thought the book bag tag was great, "It snapped easily onto my daughter's school book bag and has remained there for the past month," she tells.
This has also been stood on, dropped, kicked and disregarded as brutally as the book bag itself - you really wouldn't want to be a book bag would you, talk about abuse! - but Tamara told us the tag has endured this torture with courage and fortitude, "It still looks as fresh and pretty as the day it was made!"
Tamara loved the Samigail's personalised book bag tag so much she says she would happily get one or two for herself.
And in fact, I think I might join her - neither of us have school book bags (I checked with Tamara, she doesn't have one) but we do have various bunches of keys that could use something to identify them so we can quickly see which set we need to grab.

The applications for these are endless really - birthdays, Father's Day (don't worry it's not until 19 June, you're alright) anniversaries, births or for something 'just because' and at £2 each you really can't go wrong.
And finally...
Tamara and her daughter were completely enamoured with the Samigail's handmade personalised gifts they were sent; both stood up admirably to the rigours and abuse of an almost five-year-old and are price pitched perfectly in our opinion.
There are over 100 other gift ideas over at Samigail's and we were impressed that Fiona makes sure the wood she uses come from sustainable sources only.
The final word to Tamara...
"I give this shop at least 8.5 out of ten for originality, beauty, reliability, value for money and product robustness. A definite, screaming YES!"