Like most of the UK, we were caught short by the Arctic temperatures in our house this week.
No, we didn't get snowed in or have to be towed on the school run by a Mum in a 4x4. Worse: we lost the lids to our hot water bottles. And we didn't realise until we'd already made a song and dance about how we were going to dig out the hot water bottles and snuggle up with them in fleece blankets by the fire.
Oh, the woe. Kids of a certain age don't cope well with dashed expectations.  So we hunted high and we hunted low - and we even re-enacted the scene from the much-loved story-book 'We're going on a bear hunt' - but we could not find those hottie bottle lids. I'd rather have lost the actual bottles themselves than have to look at those darned things taunting me with their lidlessness.

Thankfully, just as it all descended into tear-streaked, teeth-chattering freezing misery, I remembered the Cherry Stone Thermal Neck Pillow that the lovely folks at Opal London had sent me for another feature I was writing before Christmas about products for pregnant mums.
100% natural, washable, dust-free and eco-friendly, it's a therapeutic thermal pillow, filled with over a litre of real cherry stones - a natural by-product of the jam and Kirsch industries. (I have to say I'm glad they mention that on the box, because until then I couldn't help wondering where the cherry stones had come from...)
Why cherry stones? Because they naturally retain heat, and the point of this pillow is that you pop it into a microwave or conventional oven and then use it to soothe away aches and pains, or just keep you from freezing to death in a lost-hot-water-bottle-tops crisis.
At £15.99 I think this is an affordable way to indulge in a little bit of luxury. Opal

London also do a Relax & Repair gift set (£22.00) that includes the Cherry Stone pillow along with two of their most popular essential oils, lavender and eucalyptus to help sooth stuffy noses. I think this would make a lovely gift for an expectant mum. (Although if you're pregnant or breastfeeding always check the safety recommendations before using essential oils.)
The Cherry Stone pillow is apparently ideal as a localised heat treatment for sports injuries, and I first heard about it as a lovely treat for pregnant mums. Because of its bag-bean-like exterior you can mold it to fit around your body, nestling it into the small of your back or resting it under your baby bump when lying down.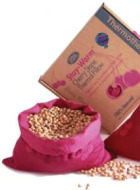 But I think it's just brilliant for children as an alternative to a hot water bottle. My concern with conventional hot water bottles is the likelihood that my boys' curiosity will one day lead them to attempt to unscrew one. I also remember one leaking when I was a kid - fortunately it had gone cold by then but it wasn't cool at all to wake up in a make-shift water bed. The Cherry Stone Pillow retains heat for longer than a hot water bottle and best of all, it doesn't go cold and clammy when it cools down.
Carefully selected, the cherry stones have been washed, dried and packed in a woven 100% cotton pouch which will apparently last for years. It can be heated up endlessly, either for 15 minutes in a conventional oven or 3 minutes in a 700W microwave. If you pop it in a plastic bag in the freezer you can also use it as a cold compress, ideal for bumps, sprains and even hangovers. Not that Mummies ever get those, of course.

Because of the cherry stone filling, this pillow gives off a distinctive cherry scent as it heats up. And if you heat it in a conventional oven it makes the whole house smell like cherry pie. I love that about it but I have to confess that my 3 year old wasn't a fan of the scent. But because it's completely machine washable you can add a few drops of essential oil to change the fragrance - lavender is particularly soothing for little ones at bedtime and peppermint is good for headaches.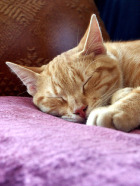 We absolutely love this. My boys love using it to heat up their beds before bedtime, and fight over who gets to  cuddle it first. My husband snaffles it to soothe his legs after a run, and I'm writing this with it wrapped  around my feet to fight impending frostbite. You're basically guaranteed a warm, fuzzy, cherry-scented glow, with change from £20. The only problem now is we need three more, plus one for the cat, who also tries to steal mine, as it's now the cosiest place in the house for a cat nap.