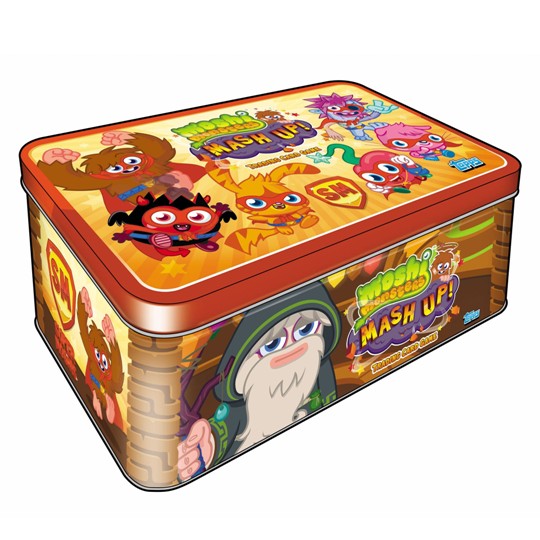 My daughter has become well and truly hooked by the Moshi Monsters madness out there and her dad, firmly wound around her baby finger, recently bought her the Moshi Monsters Mash Up Series 2 starter kit as a present.
The kit includes a binder to store the cards, ten packets of cards, a game mat, a game guide, a Super Moshi Mask and one Mash Up packet. It's only £5 in stores but extremely expensive online, so watch out for that. I have to say that I thought the binder included in the set was really a bit pants.
Remember the days when you used to collect things like this? I remember having a really funky binder that had a story with it, and clever slots for storing your cards. This is just like a giant plastic card holder with zero branding on it and no character. It is actually a bit rubbish.
For a little bit more dosh, you can rather get the Moshi Monsters Mash Up tin that includes plenty of bonus cards, bandages, stickers, badges and an exclusive card to boot. It costs around £9.99 on Amazon but shopping around can get you some decent bargains. The tin is beautifully branded and really lovely, it's something you would buy for the look and you still get loads of extras.
The cards you get to boost your collection cost around 75p per packet in stores, or you can nab some bulk buy sales that happen from time to time on sites like Amazon. I find these cards very expensive as you only get six cards per packet and one of them is a picture card with a special code. This code will nab you free in-game items or Rox.
Overall, I have to say that the series is great, the cards well made and good quality, but the price is high. The Moshi Monsters Mash Up Series 2 is an expensive investment that kids adore but parental wallets detest.