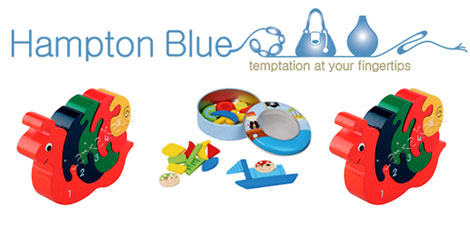 I'm trying to think how best to describe Hampton Blue to you...
You know when you come across a little shop which sells things that are a little bit different to all the usual run-of-the-mill things, whether it be clothes, toys, gifts or little trinkets that are just for the sheer hell of it?  Well that, to me at least, is Hampton Blue.
Hampton Blue is a family run business set up by two sisters who were, and I quote, "... inspired to set up our own online boutique offering a treasure trove of desirable accessories and gifts at affordable prices."
The banner headline on their website reads 'Temptation at your fingertips' - it won't take a long browse around to realise that this is very true...you've been warned.
We were sent two toys from Hampton Blue to review - a Pirate Tap A Shape Box (£4.95) and a Lanka Kade Wooden Snail Jigsaw (£5.95) - which we sent off to PlayPennies mum, Laura, to try for us.
Pirate Tap A Shape Box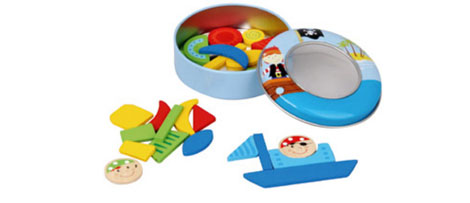 Laura and her six-year-old son were a little bemused with the Pirate Tap A Shape Box.  Firstly, there's not a box in sight as everything comes packaged in a round metal tin.
Secondly, Laura tells us that name on the tin caused some confusion too, "The name on the tin is Tap A Shape Pirate in a Tin Game. Except, there are no instructions in there for how you are meant to play with this as a game."
She goes on to say, "What you do get are lots of little pieces, beautifully crafted out of wood, that can be moved about to create all sorts of different types of pictures. At six, my son was soon quickly bored with it though, and he didn't really get it either."
Laura explains the age advice on the tin is from aged three years onwards which, whilst she understands due to the small pieces presenting a potential choking hazard, she feels is a bit of a shame as, in her opinion, it's more suited to younger children.
However, all was not lost with the Pirate Tap A Shape Box!
"The tin was a huge hit though, with it's see through lid and cute pirate graphics. I've since noticed that the contents have been emptied and substituted for some of his 'treasures', such as a foreign coin, a plastic spider, and a domino."
It sounds a bit like the well known 'cardboard box' syndrome to me - where the packaging is FAR more fun than its contents.
Lanka Kade Snail Jigsaw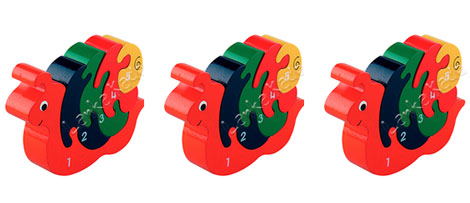 The Lanka Kade Snail jigsaw is described as a educational wooden counting jigsaw in the shape of a snail and Laura loved it.
"This is a delightful toy," she says, "there are five parts to the snail, each numbered. It works as a puzzle, and as a counting toy. It's made of wood, in primary colours. The label on the back says it is hand made in Sri Lanka, and that it is made of rubber wood."
Laura also explained to us that Lanka Kade is an approved Fairtrade supplier and that the Snail jigsaw was suitable for littlies aged 18 months or over, "As I don't have a baby in that age range, I gave it to my best friend's son to play with (he's 20 months) and he loved it too."
Laura said it was fun showing him how it went together along  with helping him 'count' through the pieces, " He played with the body part of the snail as a toy too, and his mother tells me that he takes it about with him when they go out too.  She finds it is a great toy to keep him occupied if they're on the train."
You can't get a much better endorsement than that - a toddler who wants to take a toy with them whenever they go out.
Laura also told us that her friend's son was particularly interested in the individual shapes that make up the snail, "The pieces of the snail aren't just rounded parts of the shell spiral that fit together. The parts of the shell sort of interlock. This keeps the snail together more than it would if it all just sat together, and that's probably the intention."
The unusual interlocking shapes of the pieces proved utterly fascinating in their own right making the Lanka Kade Snail jigsaw a huge hit.
And finally...
If you're looking for original little toys or gifts that won't break the bank then it will be well worth paying a visit to Hampton Blue.
Both Laura and her friend felt that both items were perfectly priced and even though the Pirate Tap A Shape box seemed a bit 'random', the tin is still providing plenty of joy and storage for those special little things.