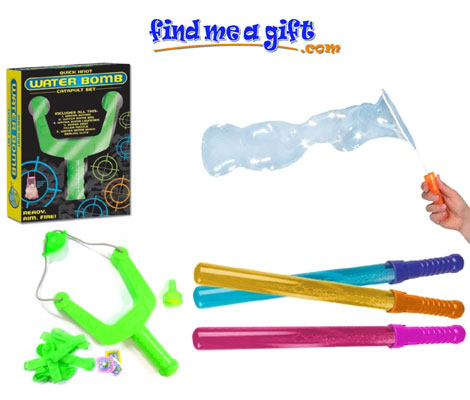 The long haul of the school summer holidays begins in just three days time; I know a lot of parents who are already beginning to feel the strain and schools haven't closed their doors yet.
It wouldn't be so bad if the weather was a little more reliable, at least you could turf the kids out into the garden and let them burn off some excess energy.
The bad news is the changeable weather is set to stay for at least the first week of the school hols, but after that it should warm back up  and be a little more settled; hurrah!
There are only so many expensive trips out you can do between now (just pretend it's Friday) and the beginning of September.
Even a family trip to the cinema is now a bank-balance-busting experience, so when find-me-a-gift.co.uk asked if they could send us a couple of inexpensive summer toys to review we were happy to oblige.
A big bubble wand and water bomb catapult set duly arrived and, despite the temptation to launch a few water bombs across the PlayPennies office first, we sent them off to PlayPennies mum Laura and her six-year-old son to play with.
Bubble Wand

The Big Bubble Wand retails for £2.49.
You know how it often is with toys, if they don't cost a ton of money you don't really expect them to last that long, or be of very good quality; in my opinion, a toy with a £2.49 price tag tends to fall into that category.
Louise thought so too.
"I am surprised this is only £2.49," she says, "It is better made than other bubble wands I've tried, mostly from the pound shop, and the quality of the bubble mixture is much better too."
Louise tells us that her son has been playing with the big bubble wand for a month now and still hasn't used up the bubble mix, "You get a LOT of bubbles from just one dip!"
Apparently, though, the reason he really loves the big bubble wand is that it has become a sort of light sabre - a boy after my own heart!
"There's something about the sturdy build, the colour, and the way the bubble mix swishes about inside it that seems to have some sort of appeal for him," Louise explains.
Louise also reports that the big bubble wand doesn't come with any instructions.
"I did expect this to make large bubbles," she says, "and maybe it does and I just haven't worked out how!"
But fear not, it transpires you don't need a degree in bubble science to enjoy the big bubble wand.

Louise  tells us that it makes about a zillion bubbles just by waving it about, or blowing on it, "Good bubbles too, that kept my son happy by floating way, way, way up in the sky."
"This was an excellent toy to take to the park," concludes Louise, "It worked as a play sword and kept us all amused with the bubbles. It's especially fun with lots of space to run around in making bubbles, and chasing them."
Quick Knot Water Bomb Catapult Set

There's something about water bombs and a catapult  that brings out the 'Dennis the Menace' in us all.
It really is very satisfying when that balloon makes contact with its target (preferably a human target on the target on the run) and EXPLODES!
The Quick Knot Water Bomb Catapult set also retails for £2.49 and, again, earns high praise from Louise.
"Now this was amazing! For the price I really wasn't expecting much," gushes Louise, "but you get a sturdy, plastic catapult that will take a good pounding, a net to put the water balloons in, water balloons, and a little funnel to make it easy to fill them up."
Marvellous! All you need for water bomb chaos in one very reasonably priced package.
Louise confesses that there isn't really very much she can say about the Quick Knot Water Bomb Catapult set, without sounding almost evangelical.
"It is easy to use, and the catapult can be pulled back and released by even tiny hands." This is good news as, often, little ones want to play with things like this and end up getting upset, and frustrated, when they can't do it properly.
"We had a lot of fun with this at our local park, which has a water play area. I would suggest that you buy two of them though, so you can chase each other!"

Louise was concerned about the natural rubber latex used to make the water bombs.
She says that although there's a very clear warning on the back to always clean up the burst bombs, she does wonder how many people actually do.
"Also, when we used it in the park, I worried about pieces that we might miss," she admits, "especially if they get eaten by wildlife, like ducks!"
And finally...
As far as Louise is concerned both the bubble wand and the water bomb catapult are fabulous and fun.
The price is more than reasonable; in fact, she's still not quite over the fact they are so cheap compared to their quality.
"Both of these toys were a HUGE hit with my six-year-old son," she concludes, "...and me!"