Dr Beckmann Laundry Products Review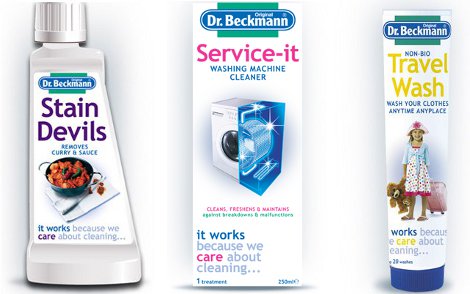 Laundry is possibly the biggest annoyance to me as a mum. It doesn't matter how much you do, or how often, at the end of the day, there's always more. If there was an environmentally friendly, cost effective way of using disposable clothing, I'd so go for it.  Even more annoying than all that laundry, however, is doing the washing and then, when you're hanging it up finding stains still firmly in place!
We were sent a set of Dr Beckmann's stain removal products to test, so we sent it on to PlayPennies mum Linda. We figured with a young boy in the house, she's bound to have stains that need removing.
Dr Beckmann Stain Devil - Curry & Sauce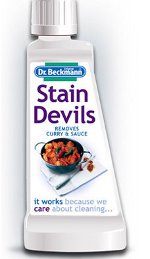 "It was funny to get this one for review," said Linda, "as I already have it in my laundry cupboard. In fact I have a range of Stain Devils. I found with my older two that when they got to school, there was an amazing range of stains to get out of clothing every week: ink, grass, food. Especially tomato sauce."
Linda really loves the Stain Devil – especially for ink and sauces. "For these two you really do need to use Stain Devil. I'm talking from long and bitter experience here! As long as you follow the instructions on the bottle you'll be fine."
Dr Beckmann Non-Bio Travel Wash
The Dr Beckmann travel wash is a special concentrated washing gel, formulated to use when you're travelling and away from home. It comes in a handy travel size, which Linda likes.
"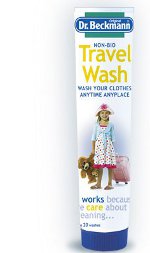 I like the size of the tube because it is about a third smaller than the stuff I usually use. This means it will be easier to carry (a bugbear of mine as the other tube does not fit in my toiletry bag)."
Linda also really liked the smell. "It's fresh, clean with a light floral scent. I didn't need too much to get a good froth up on the shirt I was washing. Much less than the other brand I use. It also rinsed out really quickly, which is always good. You don't want to waste time cleaning clothes on holiday."
"But," says Linda, "It did not clean as well as my usual stuff. There weren't any stains to worry about but the shirt was a bit smelly, and after it had dried it, it did not smell as fresh as it does after I've used my usual travel wash."
Service-it Washing Machine Cleaner
"I've actually been using the washing machine cleaner for some years now." Linda confessed. "I've used lots of different types of products in the past, including just plain detergent, white vinegar and household soda. Oh and lemon juice too.
The soda is great for keeping the limescale at bay, and I've found lemon juice to be a great way to get the innards of appliances shiny again. But for cleaning out that horrible detergent drawer, a good soak in this stuff has always worked best."
The washing machine cleaner from Dr Beckmann has been formulated to remove residues from the door seal, detergent drawer and drum – including those hard to reach places. According to reviews on their website, it's also really good for getting rid of the foul odour that sometimes comes from washing machines.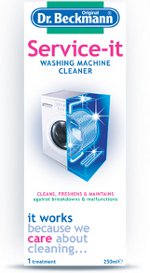 "Service-it gets rid of detergent residue from the drawer but also from the drum, pipes, seals and elsewhere in the machine. According to the packaging, it gets rid of dirt and grime and nasty odours, and I can say from experience that it does leave it smelling clean afterwards."
Linda likes to use the machine cleaner every three months or so to keep limescale at bay too.
"We're in a really hard water area, and limescale is a bane of my existence. I'm forever fighting it on the taps in the bathroom, in the sink, the kettle, you name it!
White vinegar is good at keeping limescale at bay too, and when we bought our washing machine the chap who installed it told us to run a cup of household soda through once a month to keep it clear. Dr Beckmann is my back up insurance! This approach seems to work, I've never had a problem in ten years (touches wood). "
Well, Linda does seem to love the Dr Beckmann products – so much so that she even recommends those we weren't sent to test.
"While we're on the subject, if your children's school uniform includes a white shirt then I heartily recommend their Glo-White product. In the summer, if you can hang your clothes outside, then just put in a squeeze of lemon juice with the wash and let them dry in the sun. That will naturally whiten whites. But in the winter time, Glo-white achieves a pretty good result."