Bronze Ambition Fake Tan Review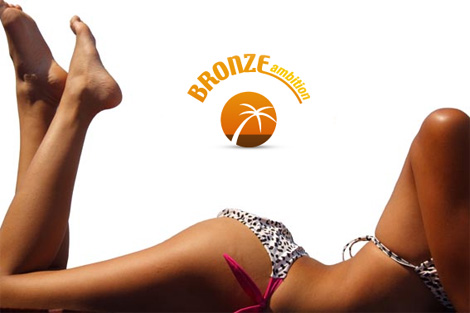 The sun tan; summer holy grail for some and hell for those who burn, then peel, at the merest mention of 'heatwave'.
The one thing everyone can agree on is the skin cancer risk that comes from basting yourself in oil, baking under a hot blazing sun (I include UV sunbeds in that statement too) and that fake tans are the way to go if you want to be a bronzed beauty or Adonis.
I must confess I'm a tan fan; I have an olive skin tone and if allowed to be pale I just look pasty and rather unwell.  I'm most envious of those with stunning pale porcelain skin who have an, almost, translucent china doll glow about them.
However, that's never going to be me so over the years I've become something of a fake tan officiando.
I'd like to say, at this point, that when I say 'tan fan' I mean a healthy glow rather than 'footballer's wife orange' - so when Bronze Ambition sent us some of their tanning products to review, I was given the task to test them...because no one else was prepared to risk turning a deep orange and looking like they'd been tangoed!
I was sent home with Glow 'n' Glow, an instant tan that rubs on and washes off,  and Fake Don't Bake which is a tanning cream whose colour develops over a few hours.
I have a nearly 16-year-old daughter who was my victim willing volunteer and helped me test the Bronze Ambition fake tan products; we tested Fake Don't Bake on her and Glow 'n' Glow on me.
Glow 'n' Glow - £1.99 (100ml)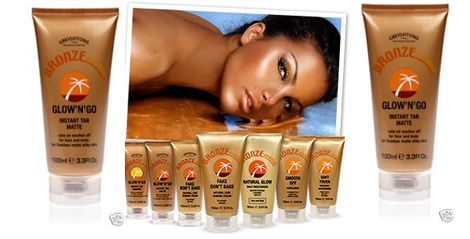 The directions for use on the back say 'apply to cleansed skin rubbing in firmly to ensure smooth and even coverage' and it will give you a 'flawless instant golden glow that easily washes off, whilst giving your skin a smooth radiant finish'.
Well, it does...and it doesn't.
I showered, exfoliated and cleansed before applying the Glow 'n' Glow.
I ignored the rather scary dark coloured liquid/lotion that sat in the palm of my hand and, after taking a deep breath, started to rub it on.
I began with my shoulders and arms first and all seemed to be going well - the colour is nice actually, despite it's colour coming out of the tube being akin to that of creosote my dad used to paint the garden fence with! - however, when I put it on my neck it didn't seem to be so smooth and my neck looked dirty rather than beautifully tanned, smooth and radiant.
The same happened on my chest.  I wondered if I was rubbing too hard or had applied too much here - you know when you rub cream in for too long it can start to rub off in 'bits'?  Well it was a bit like that.
So I grabbed a sacrificial towel and rubbed the Glow 'n' 'Glow off those areas and started again. My second attempt was marginally better, but not much.
However, I persevered and the rest of my body covered really nicely, including my face, is indeed looking golden and rather lovely.
It occurred to me that most people fake tan for the summer or before going away on holiday.  Bearing in mind Glow 'n' Glow washes off,  I wanted to know how it would stand up to me being hot and, dare I say it, sweaty. Go away somewhere hot like Italy or Southern Spain and this is will be a valid consideration when the daytime temperatures start peaking at 40C.
It's not hot in my little part of the country today so I embarked on a pretty hectic thirty minute cardio' training session to really put it through it's paces.
It did ok in as far as it wasn't running in streaks down my body, BUT it did come off when I wiped my face which left me looking more than a little odd.
I admit this is a little extreme but if you wear Glow 'n' Glow, get hot and wipe your face it WILL rub off - so perhaps think 'pat' with a tissue rather than wipe with a towel and I'm afraid it's also left me with 'interesting' coloured palms.
Fake Don't Bake - £2.99 (150ml)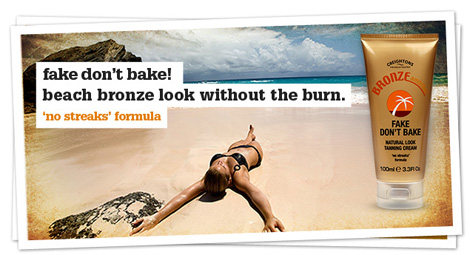 The Fake Don't Bake natural look tanning cream claims to give you a 'no streaks' natural looking tan in a few hours.
My daughter and I, having inspected the colour of her skin quite closely (it was one of the more surreal mother-daughter bonding moments), we both agree.  There's not a streak or hint of orange to be seen.
To be honest I was expecting the final colour to be darker but I think this is just a throw-back to the fake tans of yesteryear, this colour is warm and natural and if you want it slightly darker then you could apply a second layer - but only when the first one is completely dry and developed otherwise you'll run the risk of the cream turning into bits like mine with the Glow 'n' Glow.
The Fake Don't Bake cream rubbed in easily and doesn't have that hideous fake tan smell about it either.
In fact, both the Fake Don't Bake and Glow 'n' Glow smelt lovely; after much sniffing we pinned the scent down to peach with a hint of coconut!
It took about three hours for the colour to begin to show itself on my daughter's skin and another one and a half, or so, to fully develop.
She found an old white vest top to wear for a while and, after close inspection of that too, we couldn't find any staining on it where it came into constant contact with her skin (around the seams etc).
And Finally...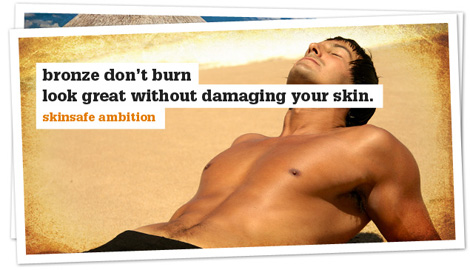 I'm aware that my review of the Glow 'n' Glow could come across as being negative but it's not - I think it's perfectly suited to going out in the evening when you just want to add a little bit of colour to your skin.
It certainly doesn't have the colour intensity of a full-blown fake tan and if you're not going to be doing anything energetic, or you're going to be safely seated in a lovely air-conditioned restaurant then you'll be safe from inadvertently rubbing it off in the sweaty heat.
It smells lovely, comes in a 100ml hand-luggage approved travel size and at £1.99 it really can't be sniffed at.
The only downside is the way it stained my palms - just be QUICK about washing your hands or get someone else to do it for you!
I don't have a bad word to say about the Fake Don't Bake tanning cream.
It went on easily, has a nice smell to it and does exactly what it promises to do - give you a natural looking tan with no streaks.  It also comes in a 100ml travel size which is £1.99 rather than the £2.99 for 150ml.
Overall, we were very impressed with the products from Bronze Ambition, particularly when we took into the account the price and that you can easily pay at least three or four times that for other fake tan brands.
You can buy Bronze Ambition products online directly from their website - delivery is free if you spend over £15 - or you'll find them on the high street at Poundland, Home Bargains and B&M Bargains.