We do love soft and cuddly toys here at PlayPennies HQ – for, you know, our kids and all. Really!
We saw the Curious Caterpillar pull-along toy from Little Bird Told Me and just knew that we wanted one of our youngest PlayPennies panellists and her mum to trial it for us.
There were problems at first as the toy was faulty, but Little Bird Told Me's customer service people sorted it out very quickly.
"The original toy that I was sent was faulty and when I contacted Little Bird Told Me to tell them they couldn't have been any more helpful. They arranged for a replacement toy to be sent straight away and it came very quickly," said Kim. That was great to know, since no matter how great a product is, it's never great dealing with bad customer service!
Once the new toy arrived, Kim was very happy. She loved the fact that it was unisex and thought it would be a great gift for a babyshower – especially one where the sex of the baby was still unknown.
The recommended age on this toy was six months and up, and Kim agreed that it would be about right for that age group, as it was a little 'young' for her 15 month old.
"I think if a child owned this toy from a young age then they would love it and it would soon become a firm favourite. I think they would then continue to play with it for ages."

The caterpillar's body is made of a variety of different fabrics and he has little cord feet to match his tail. He has an adorable embroidered face and antennae. There is a chime in his body so that when you tip him up it makes a lovely sound. The caterpillar fits inside the velour apple which has removable (via velcro flaps) wooden wheels. There is the embroidered text 'Munch Crunch' on one side and on the top of the apple the leaves are made from crinkly material and there is a crinkly flower with a baby-safe mirror at it's centre.
The Curious Caterpillar has a pull-along cord which has a safety barrel clasp in the middle which allows the length of cord to separate into two short pieces if any pressure is put on it in order to prevent strangulation. Kim does suggest giving the clasps a good test-tug just to make sure they are secure otherwise they could pose a choking hazard.
The pull-along toy comes with detachable wheels so that it can be both a soft cuddly toy and a pull-along toy, but Kim felt it would have been better if the wheels didn't detach as it she keeps having to search the house for them at the end of each day, since her daughter loves playing with the wheels almost more than the toy.
"I know I could just leave the wheels hidden beneath the depths of the sofa cushion but I just feel if I did that then the toy may as well not have the wheels and may as well not be a pull-along. I know that Little Bird Told Me were trying to make it so that the toy could be cuddled better with the wheels detached but I think if they wanted to cuddle the toy then the child could just cuddle the removable caterpillar itself."
She felt concerned about losing one of the wheels, especially since the toy costs a not insubstantial £18.00 which " is a bit too much to just let it be ruined".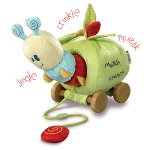 On the price and company, Kim said, "I think the price is quite expensive for the toy but I think it is worth paying that little extra as you know that the company are trying very hard to be eco-friendly and make traditional toys that last for years. Little Bird Told Me are a small company who love to make toys that fire a child's imagination. I love that idea!
The company have a great eco-policy in that they always try to use materials that can be easily recycled or are biodegradable. The toy comes in a lovely presentation box which, uses minimal plastic packaging or plastic bags and instead use biodegradable cardboard and tissue paper. I must say that I loved the fact that the toy came in a cardboard box with no horrible plastic wrapping or even fiddly plastic ties..it made such a change! Plus, it looked better!"
And Finally...
"Overall," says Kim, "I feel this toy is a complete treasure. It should last for many years if looked after well and I'm sure any little child would love it."
Little Bird Told Me stock a wide range of baby toys, including Activity Playmats , Infant Rocking Animals , Rocking Horses, Infant Toys , Cot Musical Mobiles and Accessories. Have a browse around their website, we're sure you'll find loads you love!