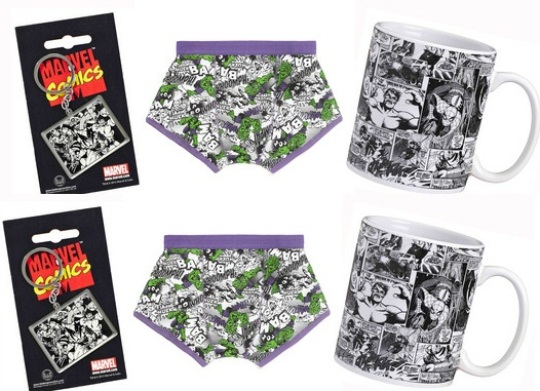 Father's Day is, oh, about five minutes away now and if you still haven't managed to find the perfect gift, then how about some of these items from ASDA? I recently got the Marvel Notebook in to review and you can colour me impressed.
Costing a mere £4 it consists of a sturdy black and white cover with original Marvel imagery across its entirety, both back and front. This is made from rather tough stuff as it has been stood on by unruly six year olds and chewed on by an exuberant puppy. The puppy did leave a drool stain but the board remains unbroken.
Inside the book you will find the same pattern as the exterior but faded and washed out. It looks really nice, there is no WAY my husband is getting this away from me. I also like the paper that you get within the ring binder. It's quite rough and has a yellow cast, almost as if it has been recycled. It isn't great paper quality, you can't use a very inky pen or marker on it without it seeping through.
As a quality gift for Dad from one of his little terrors, this definitely rates. The price is solid for a good gift that will fit neatly into most briefcases. You can also get the Marvel pen, mug and keyring at similarly low prices. I can't find these online so you will have to go instore.
ASDA also have a collection of Father's Day care products in their Groomed range. I am not a fan of giving dad a tie or a shaving kit for any occasion, I'm afraid so I was already biased against the Groomed SPF15 moisture cream I was sent. BUT…it smells amazing. I find myself stalking my husband to wipe it on him. I use it as hand cream. Gorgeous. And it only costs £2.50.