Asda Little Angels Baby Wipes Review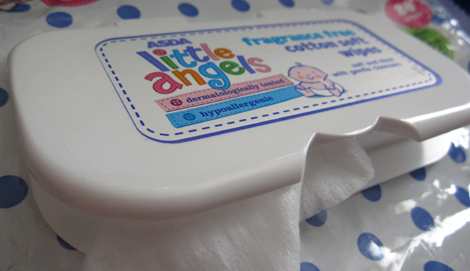 Over the last few months since I have had my baby girl, I have been testing out various products, many different types of baby wipes in particular. I got a free packet of Asda Little Angels baby wipes at the Cybermummy conference recently, as I mentioned in this post about the freebies.
Now, I probably would not have specifically purchased this Asda brand myself, as it wasn't on my mummy-radar at all.  I do most of my shopping at Tesco, and only occasionally visit Asda. So, it was good to try these baby wipes out for free.
I was very happy with these baby wipes. In fact, I was quite surprised they were so good, for a supermarket's own brand.
I liked the texture and feel of the material used in the baby wipes. They were surprisingly similar to Johnsons baby wipes, in that regard.
The packet says that they are enriched with aloe vera and baby lotion, but they do seem very mild on baby's skin. As for the smell, they were fragrance-free, and that was grand.
Price-wise, I just had a quick look at the Asda grocery store online, and these baby wipes are £0.87 for an 80pk, and are available for £3 for 4 packs (320 wipes in total). That works out at 0.94 pence each (under a penny per wipe, if you want to compare with other brands).
So in conclusion, if I saw these wipes on special offer in Asda, I would probably stock up on them. The Johnsons brand are still my favourite though, as I mentioned in the Johnsons baby wipes review, and the Huggies are still a definite No-No. I think I will try some more of the supermarket own brands next, to see how they compare with the big names in baby products.
Feel free to share your baby wipes findings in the comments below.