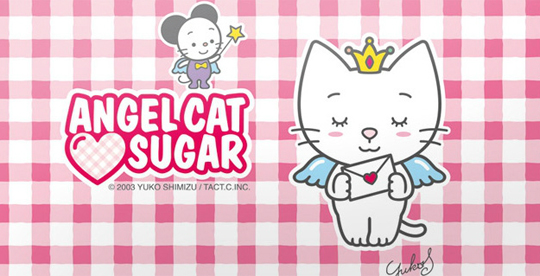 I'll be honest, I'm not a Hello Kitty fan and was a bit nonplussed when I saw my name scheduled for this Angel Cat Sugar review.
Angel Cat Sugar is a new cat phenomenon with an ever-increasing celebrity following - Fearne Cotton, Pixie Lott, Claudia Schiffer, Dannii Minogue, Tess Daly and Alexander Burke, to name a few (I kid you not!) - designed by the creator of the insanely popular Hello Kitty, Yuko Shimizu
I duly popped over to angelcatsugar.com to find out what all the fuss was about and fell in LOVE!  Not necessarily with all the products but with the story of how Angel Cat Sugar came into being and what she's 'about' - she's  a white cat who has angel wings and lives to spread love and happiness throughout the world.
The inspiration behind Angel Cat Sugar is explained by Yuko Shimizu, on the Angel Cat Sugar website, and it's a beautiful story...
Pie Chan was a cat I picked up on the street.  I didn't know whether she had been thrown away or if she was a stray cat.  She was a very beautiful cat with gold eyes and white hair.  She was also a very kind cat.  She had fed two kittens, who had lost their mother, along with her own two babies, treating them as her own.  But she suddenly disappeared from me after she finished feeding the four kittens. 

I looked for her everywhere, but I could not find her at all.  I had many cats in my life and she was the one who brought me a lot of memories. When I draw a white cat, I always remember Pie Chan.  I wonder if she might be feeding other kittens again somewhere.
Yuko also hopes that, and again I quote, "...all children can fulfil their dreams and be happy, just like Sugar!"  Yes, YES!  Children fulfilling their dreams and being happy; fabulous!
So onto the Angel Cat Sugar products that landed on my desk...
Angel Cat Sugar Soft Toy Keyring

If you're of a certain age, or like having soft toys hanging off your car keys, then you'll probably love this Angel Cat Sugar soft toy keyring.
I'm not really sure what I can tell you about it that you can't figure out for yourself, as it doesn't do anything - it's just a little soft Angel Cat Sugar that has a key ring attachment so you can dangle her from your keys!
I can't say I'm keen, but then at almost 40 I'm not exactly the target audience here - youngsters will just love her because she's a soft toy and if you have a young, or girly-girl, teenage girl then an Angel Cat Sugar keyring may be just the thing to attach to her door keys; a big something on keys makes them much easier to find and much harder to lose.
The other thing I'm not sure of is the price.  This Angel Cat Sugar keyring retails for a whopping £10 - for my money this is too much, even if she is cute! Five pounds might be more like it and even then that might still be pushing it a bit.
Overall score: 5 out of 10 - young girls will love it, but it loses marks for the price.
Angel Cat Sugar Tote Bag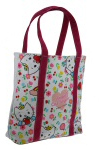 Again, I'm not the target market so you wouldn't catch me strolling around town with this Angel Cat Sugar tote bag; there's absolutely nothing wrong with it, it's just a bit bright, cutesy and flowery for my taste.
However, my youngest niece ADORES it, she carries various bits and pieces around in it and rarely leaves home without it.
The Angel Cat Sugar tote bag is patterned on one side only, the other side is just plain white and retails for £10.  A more than acceptable price, I think, for a cutesy tote bag that's very robust, will stand up to a lot of use and abuse and may just bring a little of that happiness that Yuko wants for your child (or YOU!).
Overall score: 8 out of 10 - a bit bright and flowery to have universal appeal, but young girls will LOVE it!
Grey/Khaki Shopper Bag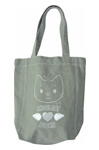 Now this grey/khaki Angel Cat Sugar shopper bag is much more my style - you see, I don't mind cats and cute it's just overt floweriness that puts me off but this shopper bag, in this colour, is nicely understated and a bit more grown-up.
Again, it only features the Angel Cat Sugar design on one side and has nice long handles - long enough to sling over your shoulder and not have the contents of your bag tucked right up under your armpit!
The Angel Cat Sugar shopper comes in other colours too: white, three different shades of pink, grey/khaki and black and all retail for £14 which I think is, again, pretty spot on.
The material isn't paper thin, the stitching is tight and tidy and it is actually a lovely, lovely bag; I'm rather surprised at how taken with it I am, to be honest.
Overall score: 10 out of 10 - I think this bag is absolutely spot on.  Young girls will love it, it's great for any age, is robust and the price is bang on the money, for my money.
Angel Cat Sugar 'Sweet As A Cupcake' T-Shirt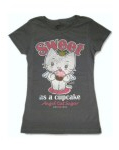 This Angel Cat Sugar t-shirt was the biggest surprise of them all!  I'm not usually a fan of slogan, or character, t-shirts (unless their rugby ones!) and looking at the t-shirt before I tried it on, I wan't keen.
I love the colour - it's a very similar grey/khaki colour to the Angel Cat Sugar shopper bag - but the design looked a bit 'in your face' and 'Sweet as a Cupcake'...? Great if you're under 21 - please anyone older than this, let your daughter wear the cutesy slogan t-shirts!
I put it on and was VERY surprised at how much less 'in your face' the design looked when it was being worn; it really is a strange phenomenon!  My daughter (aged 16) put it on and it looks really very nice - cute but not overtly babyish for a teenager and won't be too grown up if you're a little younger - not sure how they've managed that but, BRAVO!
The material isn't heavy but it's not super thin etiher; it washes nicely, keeps its shape, irons well and has become a firm favourite among my daughter's t-shirt collection.
I can't find any size charts on the Angel Cat Sugar website, so the best I can do is give you our body sizes and hope you can work out the t-shirt size you'd need from those.
I was sent a small Angel Cat Sugar t-shirt - I'm a UK size 4/6 and measure 32 inches around the chest and have a 24 inch waist. If you like your t-shirts very close fitting and are working with sizes similar to mine then a small will be fine.
Elise has a much bigger chest than me (damned genetics skipping a generation!) at 34D, her waist is a couple of inches larger than mine and the small Angel Cat Sugar t-shirt fits her nicely too.
Body length wise it's neither too long or too short and sits nicely at just above hip level; from the top shoulder seam down the bottom it measure 22 inches and from armpit seam to armpit seam - 16.5 inches.
I really don't know how else to help you with sizes - extra small is the smallest size available, goes right up to extra large and retails for £25.  If this was a t-shirt designed for little girls (which it can't be due to the sizes going up to extra large) then I'd say £25 was too expensive due to the annoying habit kids have of growing out of things in a heartbeat, but for the teenage bracket I'd say it's pretty on the money.
Overall score: 10 out of 10 - again, younger girls will love it, teenagers (up to a certain age) will love it.  It washes nicely, irons nicely and is comfy to wear and the price is good.
** Please Angel Cat Sugar - could you include a size chart on your website!
And finally...
Of all the Angel Cat Sugar things I received the t-shirt and the shopper bag are definitely the ones that get a thumbs up from me for universal appeal.
The tote bag is a bit young if you're older but perfect if you're not and would make a lovely little swimming, or overnight, bag for a little girl.
The soft toy keyring is my least favourite and whilst little girls would love her because she's soft and cute, I'd have thought she'd very quickly end up abandoned and forgotten. However, my youngest niece has completely blown that theory out of the water too - she ADORES it and takes it everywhere, along with the tote bag.
For older girls with keys to attach an Angel Cat Sugar keyring too, or perhaps a school bag zip (if their school would allow it), then maybe it has some additional value other than just being 'cute' - but at £10 I think that' s overly expensive 'value'.
There are lots of other Angel Cat Sugar goodies and products available that you can peruse and buy over at the Angel Cat Sugar website.
To conclude - I think a lot of this Angel Cat Sugar merchandise is great if you're into the whole Hello Kitty thing; some of it seems a bit pointless and overpriced but overall I'd give the majority a thumbs up.