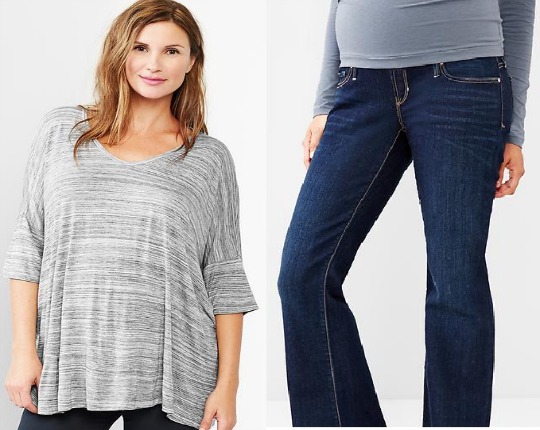 If you are pregnant or know someone who is then you are in luck. GAP are where it's at if you want cheap maternity wear, okay I appreciate they may not be the retailer that you think of when it comes to affordability. Just now they have a sale on selected maternity lines plus FREE delivery on any maternity items PLUS enter MUMGAP at the checkout and get an extra 30% off your items. You can't ask for better than that! Psst....their jeans are fab, you'll live in them, trust me!
There's lots and lots to choose from and it's not all size 6 left either, there's good availability across the range. Their jeans are fab check out these ones: 1969 Full Panel Long & Lean Jeans* was £44.95 and are now £14.02 when you use the promo code.
What about a pretty but comfortable dress? A-Line Empire Line Pointe Dress* was £44.95 now £14.02, with code or Jacquard Denim Dress* was £44.95 and now only £14.02 delivered with code.
I also thought these two tops were good buys: Space Dye Banded Sleeve Top* was £24.95 now £7.02 delivered with code or Fluid Pocket Tee* for just £4.92 delivered with code.