Maternity Clothes 50% Off @ Mamas & Papas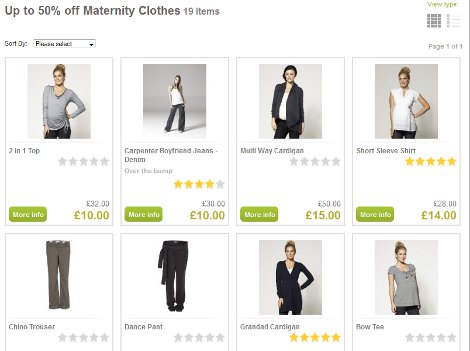 There's a sale on all sorts of things at Mamas and Papas at the moment, but the one that really grabbed my attention was the maternity clothes.
Now, before the congratulations start pouring in, no, I'm not looking at maternity clothing for myself. But when I was pregnant with my daughter I was particularly ill for the first five months and lost 3 stone. Great, but not when you're pregnant! As a result, however, I didn't have to buy any maternity clothing or wear any until late in my 7th month.  Which was great from a cost-saving point of view, but I did kind of miss out on a new preggie wardrobe – which I was grateful for when I realised what I'd be paying for it, for just a couple of months.
Which is why this up to 50% off will come in really handy!
There are only 19 items in the sale, but that should about cover you – pun sort of intended – for a while.
Here's some of what's on offer:
While at the time of writing, most items were still in stock, I doubt they will be for long, so don't delay! For great quality clothing that you'll not wear for terribly long you're going to have to go a long way to beat these prices.