Maison Boo Mum To Be Gift Set Review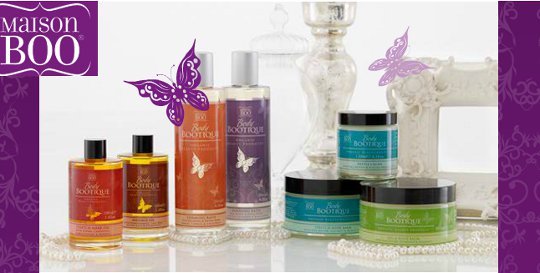 People often look at organic, chemical-free products as the domain of the rich or obsession of the hippie-wannabes.  People also shrug off the nasties found in so many beauty products today, thinking they must be okay or we wouldn't be allowed to sell them.  Which is one of the things I love about Maison Boo – an organic, nasties-free beauty product range founded by three chemists – and more unusually, three daddy chemists, shocked by the chemicals in new-born skin care products.
Quoting from their website, "…they were horrified to find that most of them contained chemicals such as parabens, Sodium Lauryl Sulfate and Sodium Laureth Sulphate.
Being chemists they were aware that these are commonly used ingredients within car wash detergents, industrial cleaners and PVC windows, and so the eczema and skin aggravation made sense. They were incredulous that such potentially harmful ingredients were so readily used in products for newborn skin, and vowed to find an alternative."
This really resonates with me, since my daughter had dreadful reactions to mainstream baby products, leading me lock, stock and barrel into organic beauty products.
Maison Boo do a gorgeous Mum To Be Gift Set (£26.99) which contains Foaming Bath, Stretch Mark Oil, Nipple Balm and Massage Oil.

The Organic Nipple Cream consists of Shea Butter and Evening Primrose Oil. Intended to be used to soothe and repair cracked and sore nipples, I gave this a smell and taste test. Smell-wise, it's great, because there is no smell. Taste-wise it does have a little bit of a taste, but I can't quite place it. It's not unpleasant at all, but I'm not sure how it would affect a feeding baby. If there are two or so hours between feeds it should be okay though as it should sink in.  They do recommend, on the jar, that you wipe your nipples before nursing though.
In pregnancy nipples can be really, really sensitive, and I've been using it for a while now and I do think it really helps as it feels almost cooling on the skin, despite not having any eucalyptus or anything like that (which could make it feel like it is cooling.)
I also love the fact that it is in a glass jar, which can be recycled, but honestly, a good wash and it can be used for anything. It's really gorgeous packaging.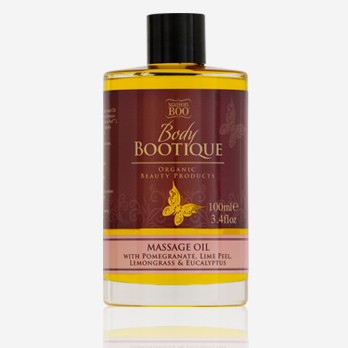 The Organic Massage Oil with Pomegranate is a.w.e.s.o.m.e. I cannot state this enough. It is the most unusual scent I've ever smelled. It's spicy, warm and it is, dare I say it, sensual. It has Baobab oil in it. Have you ever heard of that? (It's a tree, by the way).  It's the perfect 'honey can you massage me?' oil. Throw in some candles and make a night of it.  *cough*
Apart from the Baobab and Pomegranate, it also contains lemongrass and lime, so it does put me in the mood for Thai food, but that's probably just me. This oil absorbs really quickly, and I sometimes just use it for my hands, especially since it's been so cold, I find it moisturises my hands and keeps them crack-free and soft.

I've tried a few Stretch Mark Oils in my time, and this is definitely the most unusual smelling one. I often find stretch mark oils smell pretty much the same, brand to brand, but this one is entirely unique.
It contains Jojoba, Calendula, Seabuckthorn and Rosehip and again, it's an amazing aroma. It actually makes me want to rub oil on my expading belly every day. It's really beautiful.  I'll have to get back to you in a few months about how well it works, but in the meantime I have faith in the high vitamin C and antioxidants and trust them to rejuvenate and hydrate my skin.

Finally, the Organic Aches and Pains Foaming Bath has to be my new favourite bubble bath.  While I normally love lavender anyway, this also contains eucalyptus and black pepper and the undertone of black pepper is the most beautifully warm, soothing scent you can imagine.  A soak in the bath – despite normally sharing it with a two year old and half a zoo full of bath toys, is relaxing, invigorating and restoring.  I adore it.
I know I'm supposed to be balanced, rational and objective in reviewing things, but I can't think of a single negative to this range. I'm gushing over it, because it is my current favourite, bar none.
The gift set comes in a Christmassy design, making it a perfect gift for a mum to be right now, and they've done a lot to make all the packaging recyclable – with the exception of the plastic tray that holds the set… maybe that can be my negative?
If you were buying each product individually they would cost you £41.95, but the Maison Boo Mum To Be gift set is £26.99 giving you a £14.96 saving on a brilliant, luxurious, expensive-looking product.