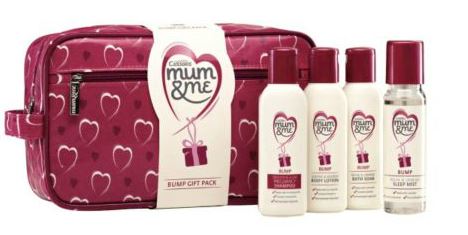 The perfect offer for anyone facing a slew of babyshowers this summer, Boots has half off on Cussons Mum & Me Bump Gift Pack, which they're selling at £7.99 instead of £15.
Cussons Mum And Me Gift pack comes in a reusable toiletry bag which contains four 100ml bottles, also making it a perfect treat for someone who may be doing some final travel prior to having a baby
The gift pack contains:
Cussons Mum & Me Bump Smooth & Glow Pregnancy Shampoo, a product that contains Almond Oil and Pro-Vitamin B5 known to help nourish and moisturise hair leaving it softer, smoother and easier to manage.
Cussons Mum & Me Bump Soothe and Nourish Body Lotion, which contains Allantoin that helps to relieve itchiness and a blend of Avocado, Almond and Grapeseed oils to help hydrate and moisturise, leaving your skin feeling soft and supple.
Cussons Mum & Me Bump Relax and Unwind Bath Soak, with added Camomile known to calm and relax, whilst the added moisturisers and milk proteins help to care for your skin. Soak amongst the gentle bubbles to help you to unwind at the end of the day.
Cussons Mum & Me Bump Relax and Unwind Sleep Mist, containing Camomile and Lavender, which are known to help you to relax and unwind, so you can gently drift off to sleep - something a lot of people struggle with toward the end of the pregnancy!
Thanks to mummybear20 at HUKD