Theraline's Plushy Moon Maternity And Breastfeeding Pillow Review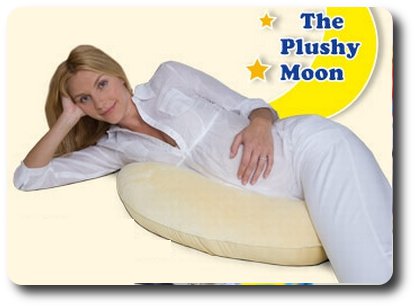 Pregnancy. It's like a trial run for motherhood, but without the little person. In this case it's all the additional things you really don't need, but that having just make your life that fraction easier. And when you suffer sciatica, PSD and general 'can't-get-up-ness', one of those fractions is something that makes sitting more comfortable and getting up easier: a maternity pillow.
Theraline's Plushy Moon is my sofa pillow. It is a crescent-moon shaped pillow with fluffy material on one side and filled with micro-beads which are meant to conform to your body to make you more comfortable.
I haven't been using it as a breastfeeding pillow yet, but it's small enough that you can place a newborn on it without having masses of bulky pillow around you, which I think would make it a perfect nursing pillow. It tapers to the end, meaning you have the bulk in the centre, but don't have your elbow up at shoulder height while you're trying to hold on to your infant, which I remember being a problem with my previous nursing pillow.
The Plushy Moon comes in a zipped plastic bag which is easy to get the pillow into and out of, and makes it ideal if you'll be travelling, or if you're storing it away between babies.
The main negative for the Plushy Moon maternity and breastfeeding pillow is the fact that it doesn't have a removable cover. You can pop the whole thing into the washing machine, but that means that while it's washing and drying, you're without a pillow, so if your baby sicks or messes on your pillow, or your toddler uses it to ski around the patio (for example!) you're pillow-less for a while.
We have really deep sofas, and I have found the Theraline Plushy Moon particularly helpful as a back support while I suffer pregnancy niggles. It forms a perfect mould between me and the sofa, and is the right width that I can get off the sofa without having to push myself up, if that makes sense, which means it's relatively painless.
Theraline Plushy Moon pillows retail at around £23.95, and can be used for sleep, to protect or support your bump and back during pregnancy and to support your baby while you breastfeed, so as far as pregnancy and newborn items go, they have a pretty good lifespan.