Taf Toys Stroll 'N' Roll £7.99 Delivered @ Argos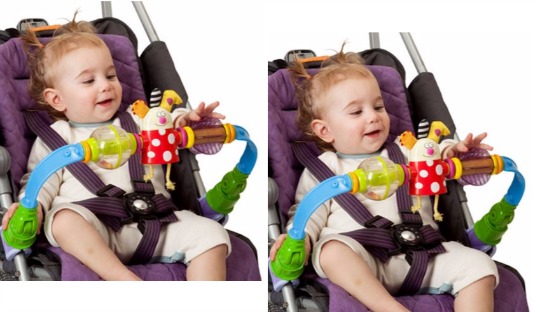 You know the drill, you're out shopping and your little toddler is bored stiff and screams the whole store down. Do yourself a favour and get something to occupy them. Something just like this Taf Toys Stroll N Roll from Argos. It is reduced from £24.99, down to just £7.99 with FREE delivery included. I think £15.99 is more realistic than £24.99 but either way £7.99 delivered is a steal.
The Taf Toys Stroll N Roll has sturdy clips that fastens this flexible pushchair toy onto the pushchair itself. Due to the design of this pushchair toy it'll fit on most widths of pushchair.
On the arch is a spinning little figure with crazy hair, a bead filled ball that will make a nice rattle sound and a spinning prism ball that get whacked over and over to see it whiz round and round.
This would make a nice first birthday present for baby to play with. Trust me you'll thank us for showing it to you, as baby will be that little bit more patient when out and about as they won't be too bored.
You cannot Reserve and Collect the Taf Toys Stroll N Roll as it is an online exclusive but you do that FREE delivery included anyway.