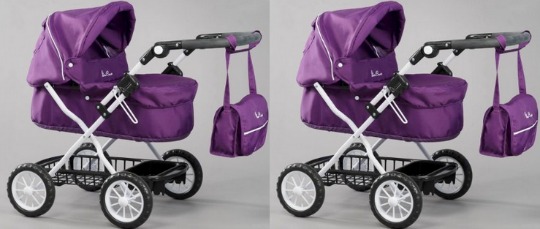 Dolls prams, every little girl want one. Check out this purple (damson) one from Amazon. It's only £27.99 and you get FREE Super Saver delivery. This retails elsewhere for around the £40 mark, so you really are getting a good buy. Thanks Amazon for churning out the bargains today!
The Silver Cross Ranger dolls pram is very good in detail and just looks like a real Silver Cross that have been shrunk down. It got a five start rating from one customer and I can see why. Silver Cross specialise in classic looking prams and this doll's one is no exception. The handle is fully adjustable so that it is suitable for children aged three to seven.
It folds flat, which is great because who has the room in their house for toys that are so bulky. I just adore the matching shoulder bag that comes with it and the shopping tray is very handy for your child to fill with junk.
I truly loved my doll's pram when I was little, it went everywhere with me. I know you can get budget dolls prams but this is just so much nicer, in my eyes.
Thanks to sspudgun25 @ HUKD