Pack Of Two Universal Buggy Clips £3.69 Delivered @ Amazon Seller: CellDeal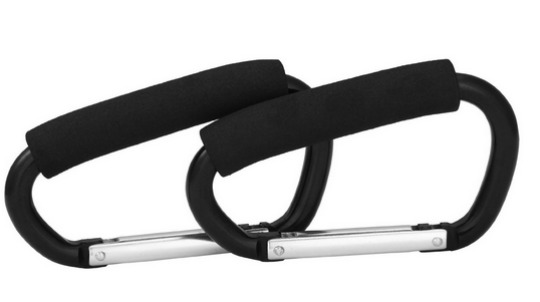 How annoying is it when you nip along your local High Street with the buggy and end up with hundreds of bags up you arms? Only one bag fits underneath because you picked a nifty, little travel system with a tiny basket. The handlebar is that and not hook handles. What do you do? Get some Buggy Clips! Grab a Two Pack of Universal Buggy Clips from Amazon Seller: CellDeal for just £3.69 with FREE delivery. Trust me they are really handy.
You might recognise these or your other half, just like mine might actually own some of these already for his/her work. These Universal Buggy Clips are better known as Carabiners. They are a sturdy tool to connect or hang from pretty much anything.
They are so simple to use too. Just clip one or two onto your pram or buggy handlebar, do some shopping and hang the bags from the clip. When you need to take them off, take the bags off first then the clips. Easy Peasy!
These specific ones from Amazon Seller: CellDeal are rated highly. In fact they have 4.5 stars. For the price, factoring in the FREE delivery, and the fact that they are ever so handy, you can certainly see why.