Oscar Travel System £89.99 With FREE Next Day Delivery @ Kiddicare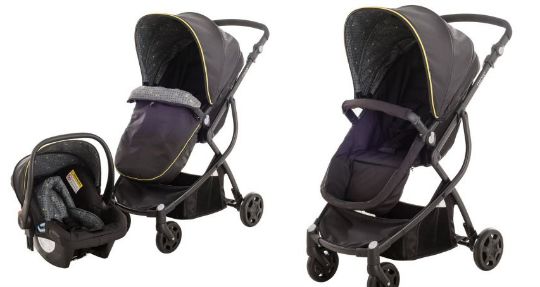 A travel system for a new baby can be a major expense, but at Kiddicare you can get one for the fantastic price of only £89.99, and that includes delivery too!
The system at this price is the Kiddicare own brand Oscar Travel System in the neutral grey olive spot colour. Although it's not made clear in the photos this is a 3-in-1 travel system that can be used as a lie flat pram, a pushchair, and with the infant carrier attached to the frame as well.
This travel system comes with all the accessories you should need, including the bumper bar, foot muff, rain cover, hood and chest pads, newborn head supports, shopping basket and more. All the dimensions and specifications are on the Kiddicare website (make sure the folded chassis will fit into your car boot!), and while you're there check out all those glowing reviews as well!
Although Kiddicare are specifying the RRP as £249 the Oscar Travel System has been this price for a while now, but it is still the cheapest on the market by a long way, and a great option for the budget conscious amongst us. If I needed a new travel system I'd definitely be considering this one.
You also get free Next Day Delivery with all orders over £29.99 from Kiddicare, so that's saving a few more pounds for all those other baby essentials.
Thanks to wienyid @HUKD