Molly Dolly Deluxe Dolls Pram £27.97 Delivered @ Amazon Seller: net_price_direct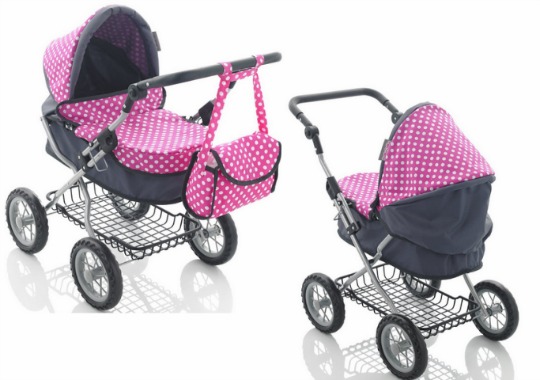 Dolls Prams are always a popular choice for little people so a lot of you are on the look out for one for Christmas. Sure, there are lots of cheap and flimsy ones out there as well as super expensive high-quality ones. We have found a highly rated one for under £28 delivered. Amazon Seller net_price_direct are selling the Molly Dolly Deluxe Dolls Pram for just £22.99 plus £4.98 delivery.  Check out those reviews!
The Molly Dolly Deluxe Dolls Pram has a very impressive 4.6 star rating on Amazon. I say read the reviews because they suggest that this pram is well worth it's current price tag.
You get the pram and a matching changing bag for the money. As it features an adjustable handle height from 50cm - 77cm. This means it will stay be able to be used as your child grows.
The shopping tray underneath is handy for carrying teddy bears and other 'essentials'. As for storage, the whole pram can fold flat so it won't take up lots of floor space when not in use.
If you are looking for that big present then this is worth a look.