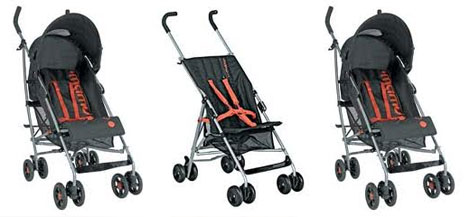 Argos are selling this Mamu 'Jump' Pushchair, in black and orange, for £33.32 instead of £49.99
I have to remind myself that just because I don't get excited about prams, pushchairs and strollers doesn't mean that the rest of you don't. So instead of stolling past the usual suspects I decided to stop and take a look.
There are so many ways to ferry your little one around it can be tricky to know which way to turn, unless you're going to stay in and be a hermit until your little one can walk around on their own.
As far as I'm concerned, the stroller/pushchair is king; they're lightweight, small and can be easier to manouevre around town than their big Range Rover equivalent travel system cousins.
This Mamu Jump Pushchair is suitable from birth as the seat has five different reclining positions, along with an adjustable leg rest.
It has lockable swivel wheels, comes with a shopping basket, a detachable hood (that has a window in the top so you can see what's going on underneath) and a raincover.
It has front wheel suspension, linked brakes on the back wheels and a five-point safety harness.
All in all it's a lovely little pushchair package, has the basics that you need without a bank balance busting price tag attached; hurrah.
Now, it's currently out of stock for home delivery and if you can't get one locally just now either - fear not, this price is valid until 29 July 2011, just keep checking back.
Thanks to pardoematthew at HUKD