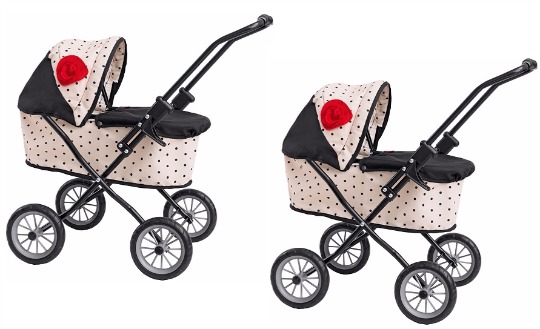 If you are looking for a dolls pram for a little one, then they don't come much cheaper than this Mamas and Papas one from Argos. It is only £11.99!!! Yes, just £11.99, reduced from £19.99. This is a very, very pretty branded dolls pram for the money and I can see this selling out at this price.
The Mamas and Papas Mini Dolls Pram is highly rated on the Argos website and the reviews are mostly positive. They do suggest that the pram is on the small size and is suited to younger children because of this. Argos suggest this is for children aged three to seven years old . The reviews would suggest three to four.
The fabric on this lovely dolls pram is a Mamas and Papas one, called Mimi. It is a cream with a black polka dots design and features a red corsage on the hood.
This dolls pram is so cheap that you could buy one to give as a birthday party present. How generous would you look then?
You can Reserve and Collect the Mamas and Papas Mini Dolls Pram for FREE from an Argos store or pay £3.95 for home delivery.