Joovy Caboose Stand On Tandem Double Pushchair £137.19 Delivered @ Amazon Seller: JDWS UK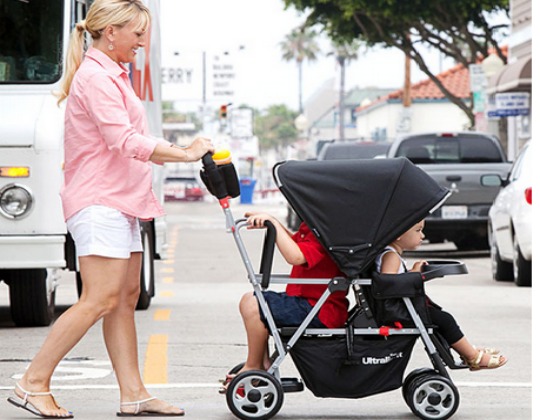 This has to be one of the niftiest Tandem Pushchair I have ever seen. Look at it! It's pretty cool and makes perfect sense. It's designed for parents that have a baby and a toddler/pre-schooler. Buggy Boards are an option but I found myself stooping with those. I really wish I had known about this pushchair when my eldest two were little. What's it called? Joovy Caboose Stand On Tandem Double Pushchair. You can get it for just £137.19 delivered from Amazon Seller JDWS UK.
The Joovy Caboose Tandem Pushchair can carry two children. The eldest is able to stand on the back, like they would with a buggy board (but without you needing to stoop). If their little legs are super tired they can sit down on the seat, facing whoever is pushing the pushchair.
The front seat can move into three-positions and the rear bench seat is padded with a safety belt. You can get a car seat to fit the front instead of using the seat when your baby is new. Joovy claim that it's light enough to push with one hand too, which if true is handy.
As far as I can see the pushchair seat itself is only suitable from six months old but as said above you can get adapters to put a car seat on to the frame.
This is such a great idea in theory but what about it's actual efficiency? It has a 4.6 star rating and the reviews are great too, so maybe this is the pushchair for those of you with small children of different ages.
Image credit: Caboose