Chicco Talking Driver £14.99 @ Toys R Us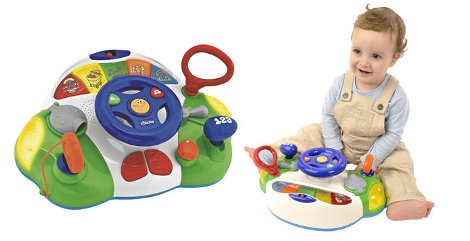 The bilingual French and English Chicco Talking Driver toy at Toys R Us is half price at £14.99 – this doesn't include delivery, which is an additional £4.95 but you'll pay £29.99 for it at Amazon and over £30 at Play.com
My daughter had a similar driving toy when she was a year old and she loved it. It didn't have the bilingual element but she loved the buttons, the 'gears' and the different sounds it made and I was rather surprised that it kept her entertained for more than six months.
Janeta on Amazon says, "I bought this for my 2 year old grandson who is the original "Gadget Man". He loves to turn knobs, pull levers and find out how things work. This toy was ideal for him as there are plenty of things on it that make noises or light up. It is a good size for a toddler and seems quite sturdy."
Your child can 'start' the car, change gears and drive with familiar car sounds to entertain them. They then reach destinations, like the supermarket and discover a world of sounds, words and phrases that are intended to encourage use of language skills.
Thanks to hillsbills at HUKD