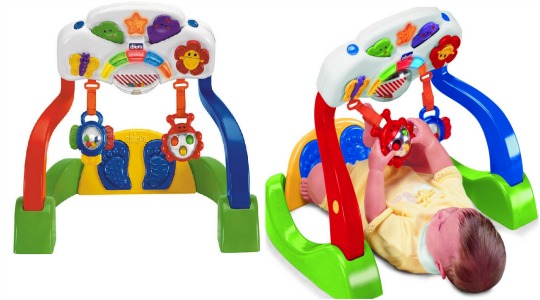 This is the last Mothercare Mega Week Deal of The Day, and it's a huge reduction. The Chicco Duo Baby Gym has an RRP of £69.99, and for TODAY ONLY Mothercare have brought the price right down to £24.99!
Most other stores are charging near the RRP, with Amazon being the next cheapest at £50.41 - so this deal is less than half the price of anywhere else.
The Chicco Duo Baby Gym is a colourful toy arch with loads of lights, sounds, music and activities to keep your baby entertained. The "duo" part is that it can be used in two different ways - when baby is lying on their back they can interact with the toys as a traditional baby gym, along with the extra feature of a special kickpad to help them to coordinate their kicking and movement of their feet. The gym can also be used in tummy time mode, and the activity panel can also be removed and attached to your child's cot as well.
£25 for such a versatile toy seems such great value, and after today it's price will increase again, so if you are considering purchasing then you don't have much time.
The Chicco Duo Baby Gym is available for Free Click & Collect from Mothercare stores, or home delivery is from £2.95.