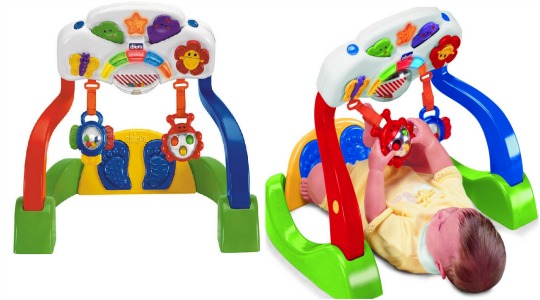 I don't know about you but I used to regard the Early Learning Centre is quite pricey when it came to branded toys. You could always find them cheaper elsewhere. Whether it's because of the current financial climate, the fact they merged with Mothercare or some other reason, but they have absolutely been offering some super deals of late. Check out this Chicco Duo Baby Gym from the Early Learning Centre, it was £69.99 and is now only £19.99. WOW! It's £42.95 at Amazon and sells for £34.99 in the mothercare clearance. So, you can see this is an amazing saving!
The Chicco Duo Baby Gym has been rated four and a half stars on the Early Learning Centre site. The reviews are very positive about it and I can see why, especially at it's current price.
It's suitable for children aged three months and above and can be most useful for that all important tummy time as well as laying on their back.
The electronic activity panel can be detached and used on your little babies cot. Which is a really nifty feature. I really like the kickpad to encourage babies foot co-ordination.
You can opt to collect the Chicco Duo Baby Gym for FREE from your local Early Learning Centre or pay £2.95 to have it delivered.