Chicco 360 Table Seat £29.97 @ Kiddicare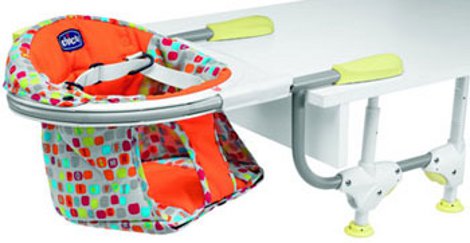 The Chicco 360 Table Seat is the perfect high chair alternative and it's currently £29.97 at Kiddicare – that's £30.02 less. Annoyingly, that .02p means you're going to have to either buy something else to push you over the £29.99 threshold for free postage, or pay £4.95 for postage.
The Chicco 360 is the only table seat that can rotate through 360° in 6 different positions. It has a hook-on system which easily adapts to fit all types of table, which makes it ideal if you have a small house or kitchen as there's no chunky high chair to trip over.
The Chicco 360 has a hook-on system which easily adapts to all types of tables as it is fitted with a dual adjuster system. That, and the fact that this is a very compact seat when closed makes it ideal for travel.
Babies are messy eaters so, usefully, the seat lining can be completely removed and the fabric part is machine washable.
The table seat is suitable from six months and one of the reviewers still uses it for her 4 year old.
Thanks to tessb at HUKD