25% Off All Cosatto Yo! Pushchairs Extra 10% Off @ Kiddisave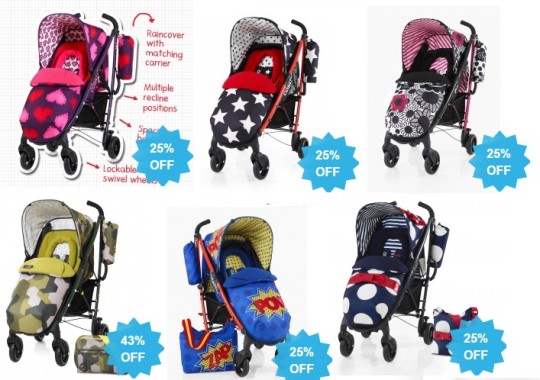 Kiddisave have a bountiful offer at the moment, with all Cosatto Yo! Pushchairs reduced by 25%. There's also another 10% off at the moment.
Click here for the Cosatto offers at Kiddisave*
Discount: 10% Extra
Coupon Code: t5YheGy10
This offer is on the Yo! Pushchairs, which are different to the Giggle that had problems and were recalled recently - as far as we can tell these are in perfect order, and this is probably an attempt by Cosatto to recoup some good graces.
To test this offer, I put the Cosatto Yo! Stroller All Star* which has an RRP of £245, but is currently reduced to £183.75. Use the 10% off code and the total comes down to £165.38. It's not enough of an offer to make you run out and buy a pushchair  you don't need, but it is a great little discount if you are in the market for one anyway.
If it's a bargain you're after the Camosatto comes with a FREE Raincover, FREE Foot Muff & Summer Liner, FREE Changing Bag, FREE 4 Year Guarantee, and is reduced from £280 to £159 which with the discount is £143.10.
There are seven lovely, colourful pushchairs to choose from, so you're bound to find something you love.
For this and other Kiddisave coupon codes visit our voucher page